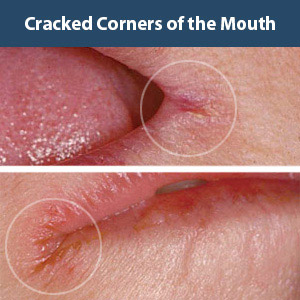 In addition to the usual tooth and gum problems, dentists also see patients with soft tissue infections in and around the mouth. One of the more common of these is the irritation or "cracking" of the corners of the mouth.
Formally known as angular cheilitis (or perleche, a French word, meaning "to lick"), cracked mouth corners are localized irritations made worse by saliva accumulation or an accompanying yeast infection. They're prominent among children and young adults who drool during sleep or while wearing orthodontic braces.
Older adults can also develop cracked mouth corners because of deep wrinkle lines around the mouth ("marionette lines") or tissue irritation from wearing dentures. Teeth loss, especially in the back of the jaws, can weaken facial support leading to collapse of the bite, which can contribute to angular cheilitis.
The condition can cause anything from minor discomfort at the mouth corners to a yeast infection that spreads throughout the mouth and throat. Whatever the symptoms, treatment usually begins with antifungal medication in the form of a mouthrinse or a topical ointment. The dentist may also prescribe a steroid ointment like zinc oxide paste to control inflammation and serve as a barrier against infection.
If the infection has spread beyond the mouth corners, patients may also need to use an antibacterial mouthrinse (usually chlorhexidine) to clear up the infection and help prevent a relapse. Besides cleaning their appliances with chlorhexidine, denture wearers with angular cheilitis should also take their dentures out at night to reduce the chances of a reoccurrence.
Along the same vein, patients who contend with frequent cracked mouth corners and who have missing teeth should have those teeth replaced by some form of restoration. If that involves dentures, it's important to maintain a good fit with them to reduce the chances of tissue irritation. And patients with deep wrinkle lines around their mouth may be able to lessen them through dermatological treatment.
Even though cracked mouth corners rarely pose a major health problem, the discomfort they cause can be a drag on your daily life and activities. Remember that you don't have to suffer—a visit to your dentist could start you on your journey toward relief from this irritating problem.
If you would like more information on angular cheilitis and similar mouth conditions, please contact us or schedule an appointment for a consultation. You can also learn more about this topic by reading the Dear Doctor magazine article "Cracked Corners of the Mouth."