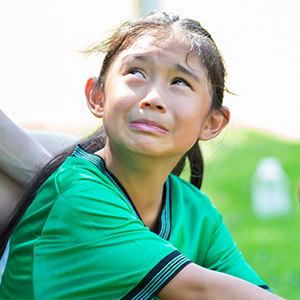 August is the traditional "kickoff" month for football season with student athletes representing the vast majority of players. And, while a new season promises to be exciting for both players and fans, there are risks for potential injury to jaws, teeth and gums.
If your household includes a football player (or other contact sport participant), you'll want to do everything you can to reduce their chances for injury or long-term damage. That involves two aspects: prevention and immediate first aid after a potential injury.
In terms of prevention, your student athlete should wear a mouthguard to protect their teeth and gums from blows to the face or mouth. Constructed of soft, pliable plastic, these oral devices cushion an impact from a hard contact that might otherwise seriously injure them. A mouthguard should be worn for any physical activity associated with the sport—including practices.
There are various styles of mouthguards, but most fall within two categories: a retail version known as "boil and bite;" and a custom mouthguard created by a dentist. Regarding the first kind, as the name implies, a boil and bite is first softened with hot water right out of the packaging. The wearer then places it in their mouth while it's still soft and bites down to create an individual fit.
A boil and bite guard can achieve a reasonable fit and provide adequate protection for a wearer. But to gain a precise fit that provides better comfort and protection, a custom-made mouthguard by a dentist is worth the extra cost. We create a custom mouthguard using an impression mold of the individual wearer's mouth. The resulting guard is thinner and more compact than the typical boil and bite.
An athletic mouthguard can drastically reduce the risk of serious injury during sports play, but, as with any element of risk, it can't reduce that risk to zero. It's important then to know what to do if a rare dental injury does occur.
The key is to act quickly, especially if a tooth has been knocked out of its socket. Putting it back into the socket as soon as possible could help save the tooth long-term. To know what steps to take for this and other kinds of dental injuries, it's good to have a reference guide handy. Here's a printable dental injury pocket guide that gives you detailed instructions for dental first aid.
Sports participation can have a lasting, positive impact on your child. But the specter of injury can also have an impact, definitely not positive and with long-term consequences. With regard to their dental health, you can make that possibility much less likely.
If you would like more information about protecting your student athlete's teeth, please contact us or schedule a consultation. To learn more, read the Dear Doctor magazine article "Athletic Mouthguards."