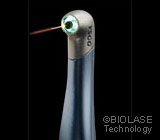 For years, lasers have revolutionized the medical industry and now they are beginning to do the same within the field of dentistry. However, anytime new technologies are introduced, people naturally will have questions. Here is a list of frequently asked questions (FAQs).
What is a laser?
Lasers are beams of light that are a single wavelength and color. Laser is an acronym derived from "Light Amplification by Stimulated Emission of Radiation."
How are they different from regular sunlight?
White light is made up of light with many wavelengths corresponding to the visible spectrum comprising the rainbow (red, orange, yellow, green, blue, indigo, and violet). Laser light consists of beams of a single color and hence a single wavelength of light, concentrated to a high energy level, which can penetrate living tissue.
How are they used in dentistry?
Dental laser usage typically falls into three categories: disease diagnosis; soft tissue procedures of the gums, lips and tongue; and hard tissue procedures of the bone or tooth enamel and dentin. Examples of the most common hard tissue treatments include the diagnosis and removal of tooth decay, while the most common soft tissue treatments include the removal of gum tissue as it relates to cosmetic dentistry and the treatment of gum disease.
Are they safe?
Absolutely! Before blazing a trail in the field of dentistry, lasers have been used for years in the medical field with research evidence and the FDA approving both their safety and efficacy. In fact, they are minimally invasive and can result in less tissue removal, less bleeding and less discomfort for patients after surgery. And what could be better than that?
Want to learn more?
To learn more about lasers and how they are used in dentistry, read the article "Lasers Shine A Light On Dentistry." And if you want to schedule an appointment, contact us today.