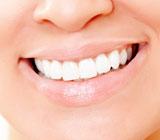 Clothing and hair styles may come and go, but a dazzling smile is always in fashion! If you're considering options for perking up your appearance, brightening your pearly whites is a quick and affordable way to achieve eye-catching results.
You have several choices when it comes to teeth whitening. But to get the safest, most appropriate, and most satisfying results, you should start with a proper dental examination. A professional assessment of your oral health can determine the cause of your tooth discoloration and may reveal the need for a particular treatment before, or in addition to brightening the color of your teeth.
Brightening Options
When we talk about teeth whitening, we generally are referring to "bleaching," which actually returns your teeth to their natural tooth color. A thorough cleaning — generally part of a routine checkup — often can remove surface discoloration/staining (such as coffee, tea, tobacco or red wine).
There are basically three approaches for external bleaching/whitening of your teeth. They vary based on the strength of the bleaching solution, method of application, duration of treatment, and cost considerations.
Professional In-Office Whitening. This approach involves the carefully controlled application by a dental professional of a powerful and fast-acting concentration of hydrogen peroxide gel. Professional whitening can achieve the most significant color change in the shortest amount of time, but it is pricier than the other options.
Professionally Dispensed Take-Home Whitening Kits. These include a lower-strength peroxide gel applied via flexible plastic bleaching trays custom made by our office specifically for your teeth. The tailored fit of the trays helps ensure an even and thorough coating. A more affordable option than the in-office procedure, it also requires more time to achieve similar results.
Over-the-Counter Products. These feature the lowest-concentration bleaching gel, which is applied to the teeth using one-size-fits-all trays or strips, or a paint-on applicator. While they are the least expensive option, they take the longest to achieve maximum results and may not reach all teeth.
If you have questions about teeth whitening, please contact us or schedule an appointment for a consultation. You can learn more in the Dear Doctor magazine articles "Teeth Whitening" and "Important Teeth Whitening Questions Answered."