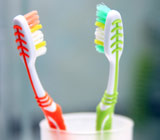 Your toothbrush serves the invaluable purpose of minimizing bacterial buildup (plaque) that can irritate gums and lead to periodontal disease, infection of the bone and tissues supporting your teeth. Brushing also helps dislodge food particles that certain oral bacteria would otherwise feed on, producing acids in the process that can eat through protective tooth enamel and the vulnerable dentin below. Given its importance to your oral health, you can maximize your toothbrush's effectiveness by using and storing it properly, and replacing it (or the brush head if you have a powered model) regularly.
Using and Storing Your Brush
All that's needed to dislodge plaque from oral surfaces is a relaxed grip and a gentle jiggling motion. Too much pressure can wear away tooth enamel, cause gum tissue to recede, and shorten the life of your brush head.
When you're done using your brush:
Thoroughly rinse it to remove any remaining tooth paste, food particles, etc.
If you're super-vigilant, you also can disinfect your brush by soaking it in mouthwash, brush-sanitizing rinse, or a half water/half hydrogen peroxide solution, or dipping it in boiling water for 5 to 10 seconds.
Air dry in an upright position and do not routinely cover your toothbrush or store it in a closed container. A dark, moist environment is more conducive to the growth of microorganisms.
Replacing and Recycling Your Toothbrush
Even with the best of care, toothbrush bristles become frayed and worn and their cleaning effectiveness diminishes after 3 or 4 months, according to the American Dental Association, though it could be sooner depending on factors unique to each patient. Besides checking the bristles regularly, a good way of keeping track is to write the date you start using your toothbrush in permanent pen on a big-enough spot on the handle (or doing it on masking tape applied to the base of a power brush).
Once your brush has passed its useful life for oral hygiene, you can still get plenty of mileage out of it. You'll find plenty of ideas on the internet for cleaning grout between tiles and grime-filled spots around taps and toilet lid hinges; removing mud from boot treads; scrubbing off corrosion from around car battery terminals and more!
If you would like more information about oral hygiene, please contact us or schedule an appointment for a consultation. You can also learn more about this topic by reading the Dear Doctor magazine articles "Toothbrush Lifespan" and "Manual vs Powered Toothbrushes."