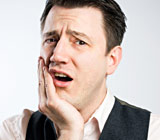 Tooth sensitivity is an issue that can range from a slight twinge at times to downright excruciating pain. However, before we continue, understanding the cause of tooth sensitivity is helpful to both relieving and treating it.
Tooth enamel is inert in that it has no nerve supply and thus it protects the teeth from temperature and pressure changes — the main cause of sensitivity. Once it is compromised, worn thin, or exposed due to gum recession, it leaves the delicate nerve fibers within the dentin vulnerable to touch, acid, and temperature change. These nerve fibers most often grab your attention when they come in contact with heat, cold, or a "double whammy" combination of both cold and sweet. They also become sensitive to touch — even the bristles of a soft toothbrush can irritate exposed dentin.
As for the causes of tooth sensitivity, one common cause we see is aggressive brushing. Yes, too much brushing can be bad for you! To be more specific, excessive, improper brushing with a sawing back and forth motion can erode the gum tissues, expose, wear, and even groove the dentin. Another cause for sensitivity can be from the destructive process of tooth decay that eats through the enamel and into the dentin.
If you are experiencing tooth sensitivity or have questions about this condition, please contact us to schedule an appointment. Or you can learn more about this topic by reading the Dear Doctor magazine article "Sensitive Teeth."