Posts for: July, 2012
By Tanglewood Dental
July 29, 2012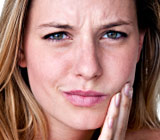 Temporomandibular Disorder (TMD), which was formerly known as Temporomandibular Joint Disorder (TMJ), is a condition that is unusual in that it frequently is quite hard to diagnose, because it often mimics many other conditions. For this reason, many healthcare professionals refer to it as "the great imposter." The condition arises when there are problems inside the temporomandibular joint and the muscles that attach to it causing pain. The pain is most often due to muscle spasm, thereby limiting the ability to open and close the jaw and to function normally. TMD can impact anyone and has a wide range of similar symptoms.
One of the common causes of TMD is stress, and it may manifest itself through clenching or grinding of teeth while awake or asleep. These habits are often completely subconscious until pointed out by a dental professional or sleeping partner. With stress-induced TMD, the pain often comes and goes in cycles. In other words, it may be present when you are stressed, seem to disappear for a while, and then reappear when you are stressed again. Another cause of TMD can be from an injury or trauma, such as a blow to the jaw. However, regardless of the cause of TMD, the pain is real and needs to be treated properly.
If you feel that you might have TMD, please let us know so that we can address your concerns, starting with a full history and conducting a thorough examination. Or if you are in constant or severe pain, contact us immediately to schedule an appointment. You can learn more about the signs, symptoms, and treatment options for TMD by reading "TMD — Understanding The Great Imposter."
By Tanglewood Dental
July 14, 2012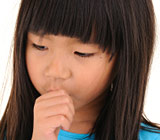 In times of stress, people have many ways to comfort themselves. For adults, it can be habits such as eating, drinking, or smoking. For children, it is often sucking their thumb, fingers, or a pacifier. Babies have been observed in scans to suck on their fingers and thumbs even before they are born. It makes them feel secure.
When is thumb sucking a problem?
Sucking on fingers or thumbs can be a problem when it is done too vigorously and too long. A young child's jaws are soft and can change their shape to make room for the thumb if the child sucks too hard and too often. If thumb, finger or pacifier habits continue too long, the upper front teeth may tip toward the lip or not come into the correct position in the mouth.
How do you know if your child falls into the group that will suffer from the results of too much thumb sucking? It's best to visit our office so we can check on how the child's teeth and jaws are developing.
What can be done about thumb and finger sucking?
Most children naturally stop sucking their thumbs, fingers, or pacifiers between the age of two and four. The pacifier habit is easier to break than the thumb or finger sucking habit, probably because it is always easier to find their fingers or thumbs. It is a good idea to try to transfer your child's habit to a pacifier at an early age. The next steps are to cut down pacifier usage and gradually stop by 18 months.
If your child is still engaging in these habits at age three, we can recommend strategies for cutting back and stopping. Remember that positive reinforcement, in which a child is rewarded for the desired behavior, always works better than punishment for the behavior you don't like.
Also remember that finger and thumb sucking is normal. Help your child to feel safe, secure, and comfortable as the behavior will probably disappear by itself. If you are worried about your child's sucking a pacifier, thumb or fingers, please visit us to put your mind at rest.
Contact us today to schedule an appointment to discuss your questions about children's thumb sucking. For more information, read "Thumb Sucking in Children" in Dear Doctor magazine.