Posts for: December, 2012
By Tanglewood Dental
December 29, 2012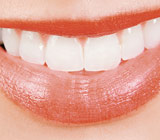 When you have your teeth bleached in a dental office, the results almost seem like magic. Let's push aside the magician's cape and see what is really happening in professionally-applied, in-office tooth whitening.
How do teeth become discolored?
A tooth's enamel covering is mostly composed of mineral crystals. At a microscopic level, you can see a framework or matrix of organic (living) matter interspersed between the crystals of enamel creating a very irregular surface capable of retaining stains. Chromagenic (color generating) organic compounds can become part of this organic matrix resulting in tooth staining. They can be bleached without affecting the mineral structure of the tooth's enamel.
As people get older and their teeth wear, the enamel loses its youthful translucency and the underlying layer, called dentin, thickens and becomes more yellow. Such changes to the actual tooth structure are called intrinsic staining. Other causes of intrinsic discoloration are exposure to high levels of fluoride or tetracycline antibiotic administration during childhood, tooth decay, or root canal problems, among others. Discoloration can also be caused by external staining from certain foods, drinks, or tobacco products. Such surface stains are called extrinsic staining.
Behind the Magic
Materials used for tooth bleaching are hydrogen peroxide and carbamide peroxide. Peroxides are commonly used as bleach, and you may have seen them used as hair bleaches, for example. Hydrogen peroxide is a strong oxidizing agent that attacks the organic molecules responsible for tooth discoloration, bleaching them until they lose their color. Carbamide peroxide also contains urea, which is a compound that permits the peroxide to remain in contact with the teeth for longer amounts of time without harming them.
Often called power bleaching, the in-office technique uses a high concentration of peroxide solution (35-45% hydrogen peroxide), placed directly on the teeth in the form of a gel. A heat or light source may enhance the peroxide release. The gel is applied with trays custom fitted to your mouth, and specific barriers are applied to protect sensitive gum tissue from the solution. Results show teeth becoming up to ten shades lighter in about an hour.
In-office bleaching under the supervision of my staff and me is recommended if you have severely stained teeth, and particularly if you are about to have veneers or crowns made. It's a way to rediscover the pearly translucency of your youthful smile.
Contact us today to schedule an appointment to discuss your questions about tooth bleaching. You can also learn more by reading the Dear Doctor magazine article "Teeth Whitening."
By Tanglewood Dental
December 11, 2012
At some point in every person's life, they will experience bleeding gums or gingivitis, a mild inflammation of the gingiva (gums), which is the first stage of periodontal (gum) disease. For example, when was the last time you were brushing or flossing your teeth and noticed that your gums were bleeding or that when you spit and rinsed there was some blood? When this occurs, it is a sign that you have gum disease, as healthy gum tissues do not bleed. And no, it is highly unlikely that your bleeding is from brushing too hard. You would have to use extreme force to make healthy gum tissues bleed. However, this is exactly how most people discount or ignore this warning sign.
If this sounds like you or another member of your family, here's what you can expect when you see us for treatment. Depending on the severity of your periodontal disease, all of these treatment options may not be necessary.
Behavior change: We will collect a thorough medical history to obtain facts about your oral hygiene, eating and other personal habits such as alcohol and tobacco use to determine their impact on your periodontal disease. Proper brushing and flossing techniques are necessary for everyone, whether you have early or late stage gum disease; however, you must commit to a good daily oral health routine if you want to achieve success and thus keep you mouth and teeth healthy.
Calculus (tartar) removal: Cleaning is not just your responsibility. We'll clean and polish your teeth to remove calculus (tartar), the calcified deposits of bacterial products that become glued to the teeth and roots that you can't remove. In fact, routine visits to see us for a thorough cleaning will help ensure that all the unhealthy calculus (tartar) is removed from your teeth.
Evaluation: Usually after three or four weeks, we will want to see you to evaluate your progress and to see the response of your gingival tissues to the treatment thus far. And depending on the severity of your gum disease, we may need another follow-up exam to decide the best maintenance and monitoring regimen necessary to keep your mouth healthy.
Occlusal or Bite Therapy: This treatment, if necessary, usually occurs once your gum tissues have been stabilized and the inflammation and infection have been controlled. It is during this phase that we will address loose teeth or teeth that have shifted or drifted in position.
Surgical Therapy: For more severe cases of gum disease, you may need periodontal plastic surgery to repair and regenerate gum and bone tissue and their attachment to the teeth. It may also be necessary to replace missing teeth with dental implants.
If you are ready to talk to us about the current state of your mouth (or the mouth of another member of your family), contact us today to schedule an appointment. The first step towards achieving optimal oral health could start with this simple call. Or, you can learn more by reading, "Understanding Gum Disease."