Posts for: January, 2013
By Tanglewood Dental
January 15, 2013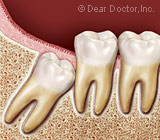 "Impacted wisdom teeth." The term alone sounds ominous. What are wisdom teeth, why do they become impacted, what is the best way to treat them? These are questions people often ask.
What are "wisdom teeth" anyway?
Your third molars, located in the very back of your jaws, are your wisdom teeth. Most people have four of them.
Why is their name associated with wisdom?
They usually begin to come in when a person is 17 to 25 years old, a time when he or she can be said to begin to reach an age of wisdom.
Doesn't everyone get wisdom teeth?
While some people have more than four, others have fewer, and some have no wisdom teeth at all. Some people have wisdom teeth that can be seen in x-rays but do not erupt (grow up through their gums) and become visible.
What does "impacted" mean?
In normal usage, the term "impact" means "influence or effect." In dental vocabulary, it means that a tooth is affecting another tooth or a nearby structure such as gums, nerves or blood vessels. Often an impacted wisdom tooth grows sideways into an adjacent tooth instead of growing upwards to come through the gums normally. This may be caused by a lack of room in your jaw for your third molars.
What kinds of problems can impacted wisdom teeth cause?
A wisdom tooth can impact the gum tissues surrounding nearby molars, leading to infection called "periodontal disease" (from the root words for "around" and "tooth.") They can also cause root resorption in adjacent teeth, a process by which the tooth's roots are slowly dissolved and eaten away.
What are the symptoms of impacted wisdom teeth?
Sometimes impacted teeth are asymptomatic — you feel nothing, even though damage is being done to gums and teeth surrounding the wisdom teeth. That's why it's a good idea to have regular checkups even if you are feeling no pain. Other times, impacted teeth can lead to acute inflammation and infection in surrounding gum tissues that is very painful.
Should I proactively have my wisdom teeth removed if they are not giving me any trouble?
Not necessarily but your wisdom teeth need to be evaluated. Generally speaking, however, it's better to remove wisdom teeth early, before they begin to cause dental problems. By the time a wisdom tooth starts to hurt, its neighboring teeth may already be in big trouble. In addition, younger people's wisdom teeth have undeveloped roots that make them easier to remove with fewer complications.
Contact our office for a full assessment and consultation about your wisdom teeth. You can also learn more by reading the Dear Doctor magazine article "Wisdom Teeth: To Be Or Not To Be?"
By Tanglewood Dental
January 05, 2013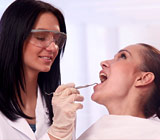 Gum or periodontal disease is a condition in which "biofilms" or dental bacterial plaque sticks to teeth around the gum line in the absence of good oral hygiene. If left untreated, it causes inflammation of the gums and surrounding tissues of the teeth that can result in "pocketing," gum recession and bone loss that eventually leads to loose teeth, followed by no teeth! And for about 10 to 15% of those having gingivitis or stage 1 periodontal disease, it can get worse by progressing into chronic periodontal disease. However, the good news is that a conservative and simple treatment called root planing combined with good daily oral hygiene may return your gum tissues to health, and even eliminate the need for gum surgery.
Most of the time, root planing is performed with local anesthesia (numbing shots) in the areas requiring treatment. Anesthesia is an important part because you should always feel relaxed and comfortable during treatment. Because inflamed gum tissues may be quite sensitive, these numbing shots enable us to accomplish our goals and thoroughly remove the problematic material from your teeth's roots.
Root planing or deep cleaning is a routine dental procedure usually done in conjunction with scaling, the removal of the more superficial deposits on the tooth surfaces. Root planing involves physically planing (scraping) the root surfaces of the teeth to remove calculus, bacteria and toxins that are ingrained into their surfaces so that the attached gum tissues can heal. It is carried out with manual hand instruments, ultrasonic electronic instruments or a combination of both for your comfort and best results.
You can learn more about this procedure by reading, "Root Planing." Or if you want to schedule an appointment to discuss your questions, contact us today.