Posts for: July, 2013
By Tanglewood Dental
July 30, 2013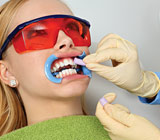 If you're looking to improve the appearance of your smile, tooth whitening treatments — whether done at home or in our office — are a popular option. Here are the answers to some questions that many people ask before they begin the process.
Q: Are commonly used tooth-whitening methods safe?
A: Yes — provided they are used as directed. A large body of research has shown that using the correct concentration of peroxide — the bleach that whitens teeth — for the proper amount of time is not known to cause any major health problems. However, there have been cases where poor-quality bleaching solutions and/or excessive usage have caused deterioration of tooth enamel and extreme gum sensitivity. Always follow our office's recommendation.
Q: Does this mean I have to have in-office treatments to whiten my teeth?
A: No. But you should come in for a thorough dental examination, with x-rays, before you begin whitening treatments. Why? Because if there is trouble with the underlying tooth structure, then whitening the tooth is like painting over rusty metal: It hides the symptom, but doesn't fix the problem. Abscesses and root-canal problems are just two of the underlying causes of tooth discoloration that should be treated before teeth are whitened.
Q: What are some different methods for whitening teeth, and how long do they take?
A: The fastest is in-office whitening treatments, using a strong bleaching solution and appropriate gum protection. Next comes the cost-effective method of at-home bleaching with custom-made flexible plastic trays (sometimes called nightguard vital bleaching.) If you're not in a hurry, over-the-counter (OTC) products can do the same thing — given enough time. One study comparing different whitening treatments found that a six-shade improvement in whitening was accomplished by three in-office treatments. A week was needed for custom-tray bleach applications, or 16 daily applications of OTC products, to achieve comparable results.
Q: Can any tooth be made bright white?
A: No. Every tooth has a maximum level of whiteness, beyond which it can't get any lighter. Furthermore, fillings, crowns and other dental restorations can't be lightened with bleach — another reason to talk to our office; we can help you achieve the best possible look for your particular smile.
Q: How long will my white teeth last?
A: It depends. No whitening method is permanent, but the typical result lasts for up to two years. To preserve that bright smile, you can take some positive steps: Avoid tobacco and beverages that stain, like red wine, tea and coffee; keep up with regular cleanings in our office; and, practice good oral hygiene at home. You can also have a touch-up treatment once or twice a year.
If you need more information about tooth whitening, or you're ready to start the process, please contact us or schedule an appointment for a consultation. You can also learn more about this topic by reading the Dear Doctor magazine article "Important Teeth Whitening Questions Answered."
By Tanglewood Dental
July 15, 2013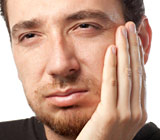 If you were recently in an accident or received a hard hit while playing sports and you have been feeling jaw pain ever since, you may be suffering from a serious injury. It is important that you make an appointment with us immediately, so that we can conduct a proper examination, make a diagnosis and prescribe a suitable treatment. Even if the pain is lessening, you should still make an appointment.
Without seeing you, we have no way of definitively diagnosing the cause of your pain. However, here are a few possibilities:
You displaced a tooth or teeth.
You indirectly traumatized or injured the jaw joint (TMJ — temporomandibular joint). This trauma will cause swelling in the joint space, and the ball of the jaw joint will not fully seat into the joint space. If this is the issue, it is likely that your back teeth on the affected side will not be able to touch. Over time, the swelling should subside, allowing the teeth to fit together normally.
You may have a minor fracture of your lower jaw. The most common is a "sub-condylar" fracture (just below the head of the joint), which will persist in symptoms that are more severe than simply bruising and swelling.
You may have dislocated the joint, which means the condyle or joint head has been moved out of the joint space.
All of the above injuries can also cause muscle spasms, meaning that the inflammation from the injury results in the muscles on both sides of the jaw locking it in position to stop further movement and damage.
The most critical step is for you to make an appointment with our office, so we can conduct a physical examination, using x-rays to reveal the extent of your injury. We'll also be able to see whether the injury is to the soft tissue or bone.
Treatment may involve a variety of things, including anti-inflammatory and muscle relaxant medications. If your teeth have been damaged, we'll recommend a way to fix this issue. If you have dislocated your jaw, we may be able to place it back through gentle manipulation. If you have fractured your jaw, we'll need to reposition the broken parts and splint them to keep them still, so that they can heal.
If you would like more information about jaw pain, please contact us or schedule an appointment for a consultation. You can also learn more by reading the Dear Doctor magazine article "Jaw Pain."