Posts for: August, 2013
By Tanglewood Dental
August 29, 2013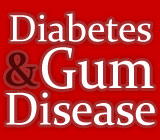 Diabetes and periodontal (gum) disease are two types of inflammatory conditions that have more in common than was once thought. There is strong evidence to show that each of these diseases is a risk factor for the development and growth of the other. Studies have also found that treating one condition successfully may have a positive impact on the treatment of the other.
From the Greek meaning "to pass through the urine," diabetes mellitus causes an abnormal rise in blood glucose level that can't be adequately controlled by insulin, the body's primary hormone for that task. Either the pancreas can't produce an adequate supply of insulin (as with Type 1 diabetes) or there is resistance to the hormone's effects (as with Type 2 and gestational/pregnancy diabetes). If you are a diabetic patient, you face many difficult issues with your health: your body develops an altered response to inflammation that may severely inhibit wound healing. You also may become more prone to chronic cardiovascular disease.
Periodontal (gum) disease describes a group of diseases caused by dental plaque, a whitish film that contains infection-causing bacteria. As infection rises within the gum tissues, the auto-immune system of the body responds to this threat and inflammation results. If the person is also a diabetic, this response may be impaired and may have a direct effect on how severe the periodontal disease progresses.
Periodontal disease can also affect your blood glucose level, if you are a diabetic. A number of studies have demonstrated that diabetic patients who have improved control of their periodontal disease through better oral hygiene and dental treatments have shown improvement in their blood sugar levels. There's even some evidence that effective periodontal treatment that reduces inflammation may improve the body's sensitivity to insulin. Likewise, bringing diabetes under control with supplemental insulin or positive lifestyle changes can help lessen the likelihood and severity of periodontal disease.
To sum it up, if you have been diagnosed with some form of diabetes, taking care of your teeth and gum tissues can have a positive impact on your diabetes. Likewise, making healthy changes in your lifestyle to bring your diabetes under control can reduce your risk for periodontal disease.
If you would like more information about periodontal disease and its effect along with diabetes, please contact us or schedule an appointment for a consultation. You can also learn more about this topic by reading the Dear Doctor magazine article "Diabetes and Periodontal Disease."
By Tanglewood Dental
August 14, 2013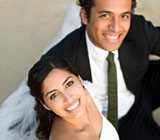 You're planning for one of the most important days in your life — your wedding — and you want everything to be perfect. You've chosen the outfits, the setting, the flowers... but there's one more thing to think about. Is your smile just as bright as your hopes for the future? Do you wish you could improve its appearance in time for the big date?
Here's good news: You can! Depending on how much advance notice you have — and what level of enhancement you need — your wedding day smile makeover can range from a thorough dental cleaning to a full-scale orthodontic treatment program. Let's look at a few options that can help you look and feel your best on this very special day.
Getting your teeth thoroughly, professionally cleaned can help remove some surface stains and tartar in just one appointment! Depending on the level of discoloration, and how long it's been since your last cleaning, more than one session may be needed. You have this basic and effective treatment done every three to six months anyway — right? So, be sure and schedule one before your wedding!
Sometimes your smile needs more than just routine maintenance. If that's the case, there are many other options to help it look its best. Tooth whitening is a safe, effective and economical way to lighten teeth by several shades. In-office treatments are quicker and more predictable, but dentist-supervised at-home bleaching kits are also an option if you have more time.
Porcelain veneers offer a more striking and more permanent solution for discolored teeth. To get the optimum "wow" effect from this treatment, figure from two to four office visits, and a total treatment time of at least three months.
Cosmetic bonding is a great way to hide those little chips in the front teeth, or discolored old fillings in back. Using the newest high-tech materials and a dose of old-fashioned artistry, we can restore the shiny, translucent look of your natural teeth — only with fewer imperfections. After a thorough evaluation, cosmetic bonding can often be performed as a one-visit procedure.
If your smile needs even more help, don't despair — there are still plenty of ways to improve it.
Teeth that are damaged or missing can be restored by crowns or bridgework. When the roots are intact, a crown replaces the visible part of the tooth above the gum line. If the tooth is missing, a bridge is used to secure a false tooth to two abutments on either side. Properly done, these restorations may last a decade or more, and generally require two or more visits.
Dental implants are a great way to restore missing teeth. They offer a permanent, natural-looking tooth replacement with numerous advantages over other restorative treatments. Achieving these results requires careful planning and takes a bit more time. If you need tooth restoration, be sure to ask us whether dental implants might be right for you.
If you would like more information about a wedding-day smile makeover, don't hesitate to contact us or schedule an appointment to discuss your treatment options. You can learn more in the Dear Doctor magazine article "Wedding Day Smiles."