Posts for: April, 2014
By Tanglewood Dental
April 24, 2014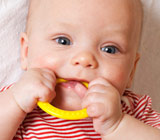 When your baby's first teeth erupt in the mouth, it's a big step in their development. Unfortunately, you may not have much opportunity to celebrate — you're too busy tending to your infant whose experience is anything but pleasant.
Commonly known as teething, the eruption process usually begins between six and nine months of age, although some children may begin as early as three months or as late as twelve. Not all teeth come in at the same time: it usually begins with the two lower front teeth, then the two upper front teeth, followed by the molars and then the canines (eye teeth). By age three, most children have all twenty of their primary teeth.
Each child's teething experience is different and may vary in length of time and intensity. The usual signs are heightened irritability, biting and gnawing accompanied by gum swelling, ear rubbing, drooling and sometimes facial rashes. Babies also may have disturbed sleeping patterns and a decreased appetite. Occasionally, this discomfort can be intense.
There are some things you can do to ease this discomfort. Provide your baby a clean, chilled (not frozen) rubber teething ring, chilled pacifier or wet washcloth to gnaw on. Cold foods, like popsicles for older children can also be soothing, though you should limit sugary foods to lower the risk of tooth decay. You can also finger massage swollen gums to counteract the pressure coming from the erupting tooth, or administer pain relievers like baby acetaminophen or ibuprofen. You can use products with Benzocaine®, a numbing agent, for children two years or older — but you should never use alcohol for children of any age for inflamed gums.
Be sure to also set up a Year One dental examination around their first birthday. This is an important first step in your child's long-term dental care, and a good opportunity to check their teething progress. And, by all means, if you have concerns about your child's experience with teething, don't hesitate to call our office.
Teething is a normal part of your child's development. There's much you can do to help make it as comfortable and pain-free as possible.
If you would like more information on teething, please contact us or schedule an appointment for a consultation. You can also learn more about this topic by reading the Dear Doctor magazine article "Teething Troubles."
By Tanglewood Dental
April 09, 2014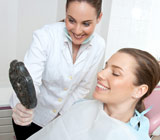 Regardless of culture, the smile is a universal gesture of friendship and openness, and an important communication tool in your social and career relationships. But what if you're not comfortable with your smile because of misaligned, damaged or missing teeth? That could have a dampening effect on your interactions with people and your own self-confidence.
Cosmetic dentistry can change all that — we have an arsenal of treatments that can rejuvenate your smile. We must first, though, develop a design plan, often involving multiple dental disciplines. It will definitely involve you — your desires, expectations and choices.
It begins with a thought-provoking discussion with our office. Generalities — "I want a beautiful smile" — aren't enough. Effective planning begins with a clear perspective about your teeth: What do you like or dislike about them? If you could change anything, what would it be? These initial discussions help us specify your expectations.
While the initial discussion envisions the future, the next step focuses on the present — the current condition of your teeth, mouth and entire facial structure. This requires a comprehensive examination to identify any health issues like tooth decay, periodontal gum disease or bone loss. We must also take in the "big picture," like the shape of your face, out-of-balance features (asymmetries), skin complexion, eye shape and color, or the form and posture of your lips.
Considering all these factors, we then develop a treatment plan with specifics on how to achieve the desired transformation. We will offer our prognosis for what we believe is achievable and maintainable for your specific situation. Here we provide various models, perhaps even including computer simulation, to depict your future smile. In the end, we create a workable plan that meets both reality and your expectations.
With the design plan completed, we can then harness all the techniques and materials available to achieve it. These range from less invasive procedures like whitening, tooth reshaping, cosmetic bonding or porcelain veneers, to more involved restorations like crowns, bridgework or dental implants. In some cases, orthodontics may be necessary to correct bad bites or other malformations of your oral structures.
Smile design ensures we're employing the right techniques for your particular situation. It all serves the end goal — a new smile that can transform your life.
If you would like more information on smile design, please contact us or schedule an appointment for a consultation. You can also learn more about this topic by reading the Dear Doctor magazine article "Beautiful Smiles by Design."