Posts for: September, 2014
By Tanglewood Dental
September 18, 2014
Chewing tobacco has a certain cachet among its users, especially young boys and men, who believe using it makes them appear macho or "cool." They also believe this "smokeless" variety (as it's often marketed by tobacco companies) is safer than cigarettes or cigars.
Unfortunately, nothing could be further from the truth. In reality, chewing tobacco is harmful to your health — and especially your oral health. Regular use of these products can lead to severe dental and mouth conditions resulting in disease, disfigurement, or even death.
Like the smoked variety, chewing tobacco infuses its users with nicotine, a chemical stimulant naturally produced by the tobacco plant. The body responds to the stimulant's effect and begins to crave it, leading to addiction.
The problem, though, is the other ingredients in chewing tobacco: more than thirty other substances known to cause various kinds of cancer, including oral. Oral cancer alone is extremely dangerous: many patients suffer partial or complete loss of oral tissue and facial structures, including the tongue, lower jaw or even the face. Some even lose their lives — statistics show that only half of those with oral cancer survive more than five years after diagnosis.
Although cancer may be the most harmful effect of chewing tobacco, it isn't the only one. Researchers have found tobacco users have higher rates of tooth decay and gum disease than non-users. Tobacco also causes cosmetic and hygiene problems, including tooth staining and chronic bad breath.
If you're a tobacco user in any form, and especially chewing or spit tobacco, as your dentist we would advise you to consider quitting the habit. Giving up tobacco will not only improve your oral health and appearance, it may even save your life.
If you would like more information on the dangers of chewing tobacco, please contact us or schedule an appointment for a consultation. You can also learn more about this topic by reading the Dear Doctor magazine article "Chewing Tobacco."
By Tanglewood Dental
September 02, 2014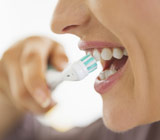 By the time you reach adulthood, roughly 100 trillion microscopic organisms will have taken up residence in and on your body, outnumbering your own cells 10 to 1. Most are bacteria, a domain of the animal kingdom considered synonymous with disease. But only a few of the thousands of bacterial species cause us harm; the rest are either benign or actually beneficial to our health, including in our mouths.
Dentistry pioneered much of our knowledge about bacteria, developing processes used to identify, classify and understand those species inhabiting our mouths. Science as a whole is catching up with the Human Microbiome Project (HMP) begun in 2007. Through HMP, researchers have catalogued and begun to study more than 10,000 bacterial species.
We're finding that our bodies develop a symbiotic relationship with many of these creatures invisible to the naked eye. During our infancy the bacteria we ingest from birth and breast feeding begin to interact with our body's immune system, "teaching" it to refrain from attacking friendly organisms that contribute to health and searching and destroying enemy species that cause disease.
We're also learning that an imbalance with our individual population of bacteria has links with disease. Our digestive system is a prime example: bacteria related to obesity can overpopulate our digestive tract, while malnutrition can create an environment that produces too many bacteria that inhibit digestion of vitamins and other nutrients.
The same microbial imbalance can occur in the mouth. For example, our typical Western diet encourages the growth of bacteria most associated with tooth decay (Streptococcus mutans). We're also finding that tobacco smoking creates a mouth environment more conducive to the bacteria that cause gum disease. Just by quitting smoking you can alter that environment to encourage growth of health-promoting bacteria and inhibit growth of malevolent species.
The desired outcome of this knowledge is to develop treatments that target disease-causing bacteria without harming those beneficial to us (as often occurs with traditional antibiotics). In dentistry, such possibilities could help stop the spread of tooth decay, gum disease or similar bacterial infections, while fostering a healthier oral environment that prevents disease and protects health.
If you would like more information on healthy aspects of bacteria, please contact us or schedule an appointment for a consultation.