Posts for: May, 2016
By Tanglewood Dental
May 28, 2016
A traditional root canal procedure can be a "life-saver" for a decayed or injured tooth. But while it's usually the best course for a damaged adult tooth, variations of the procedure are advisable for a new permanent tooth in a child or young adolescent.
This is because the inner pulp, the focus of the treatment, plays an important role in a young tooth's development. When it first erupts a tooth's dentin layer, the living tissue that makes up most of the body and roots of the tooth, hasn't fully formed. The pulp increases the dentin layer over time in conjunction with jaw development.
Because a full root canal treatment removes all of the pulp tissue, it could interrupt any remaining dentin development in a young tooth. This could lead to poorly-formed roots and a less healthy tooth. For an immature permanent tooth, then, we would use variations of a root canal treatment depending on the nature and extent of the injury, the patient's overall health and medications they may be taking.
Our main objective is to expose or remove as little of the pulp tissue as possible when treating the tooth. If the pulp hasn't been exposed by the decay or injury, we may only need to remove the softened decayed or injured dentin while leaving harder dentin nearer the pulp intact. If, however, the pulp has become partially exposed by disease or injury, we would then perform a pulpotomy in which we remove only the exposed tissue and then place calcium hydroxide or mineral trioxide aggregate (MTA) to stimulate dentin growth that will eventually patch the exposure site.
In cases where decay or injury has rendered an immature tooth's pulp tissue unsalvageable, we may use a procedure known as apexification that seals off the open, cylindrical root end of the tooth. This will allow bone-like tissue to grow around the root to serve as added support for the tooth. Although it can save a tooth in the short run, the tooth's long-term survival chances may be lower.
By using these and other techniques we may be able to save your child's immature tooth. At the very least, such a technique could postpone replacing the tooth until a more opportune time in adulthood.
If you would like more information on treating damaged teeth in children, please contact us or schedule an appointment for a consultation. You can also learn more about this topic by reading the Dear Doctor magazine article "Saving New Permanent Teeth after Injury."
By Tanglewood Dental
May 13, 2016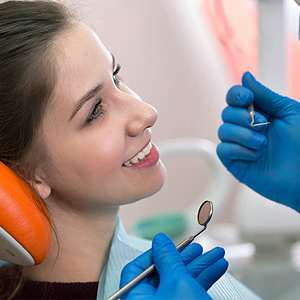 After treating you for periodontal (gum) disease for some time, we may suggest you see a periodontist, a specialist in gum conditions and diseases. There are a number of reasons for a referral, including the specific type of gum disease you may have developed.
Here are 4 more reasons why seeing a periodontist might be advantageous at this stage in your dental care.
Advanced treatment. All dentists are skilled in basic treatment procedures for gum disease, particularly removing plaque and calculus (hardened plaque deposits) that cause and sustain infections. But if your disease has advanced deeper below the gum line and has resulted in infection-filled void pockets between teeth and gums or in gum recession (the tissues shrinking back from the teeth), you may need more advanced techniques and equipment provided by a periodontist.
Advanced Cleanings. Regular, twice-a-year office cleanings are part of every dental care program. But depending on the severity of your gum disease (and your own hygiene efforts) you may need more frequent and advanced cleanings to keep recurring infections at bay. A periodontist can provide this, as well as help you develop a daily hygiene plan that meets your needs.
Your general health. There are a number of systemic conditions like diabetes, cardiovascular disease or pregnancy that can affect gum health. Many of these issues are tied to tissue inflammation, a major component of chronic gum disease, as well as slower tissue healing. As specialists in the gums and their relationship with the rest of the body, a periodontist can develop a treatment approach that coordinates with these other health issues.
Future restoration preparation. One of our treatment goals with gum disease is to try to prolong the life of natural teeth for as long as possible. In reality, though, some or all of your teeth may have a shortened life expectancy. If a comprehensive dental restoration is in your future, a periodontist can help prepare your gums for the inevitable. They may also be able to repair or restore gum tissues that enhance the appearance of a restoration to create a more attractive smile.
If you would like more information on advanced treatment for periodontal disease, please contact us or schedule an appointment for a consultation. You can also learn more about this topic by reading the Dear Doctor magazine article "Referral to a Dental Specialist."