Posts for: February, 2017
By Tanglewood Dental
February 16, 2017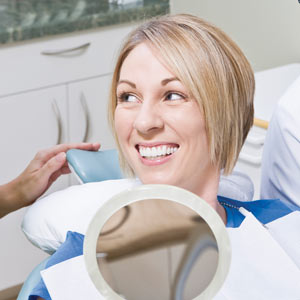 Digital computer technology has made a big impact on cosmetic dentistry. We can now simulate on a monitor display of your face how your new smile will appear after dental work, thanks to a graphics program specifically designed for cosmetic dentistry.
While that's an amazing development, we can also take it a step further by creating the look of a new smile on your actual teeth during an office visit. We call it a "trial smile."
To create a trial smile, we begin with composite resin, a tooth-colored bonding material, and fashion it into temporary veneers or crowns that we then temporarily place over your teeth. This gives us the chance to see what your new smile will look like in all three spatial dimensions (rather than the two-dimensional view on a computer monitor) and while your face is in motion as you talk and smile. This can give us a great deal more detail to help better evaluate your proposed look.
A trial smile also helps us in planning your new look. Like you, we want the best result possible: a trial smile allows us to see how your jaw movement interacts with your updated look and if everything works together as it should. It will also give us a better idea how much tooth structure we'll need to remove to accommodate your permanent veneers or crowns — the less, of course, the better.
Although you won't be able to take your trial smile with you when you leave, we can take a photograph you can review later, as well as show friends and family for their opinion. Trial smiles do add some cost to treatment, but the proportion of expense to the benefit of actually viewing your smile in this fashion is well worth it. It's one more way we can ensure your final new smile meets your expectations.
If you would like more information on "trial smiles," please contact us or schedule an appointment for a consultation. You can also learn more about this topic by reading the Dear Doctor magazine article "Testing Your Smile Makeover."
By Tanglewood Dental
February 01, 2017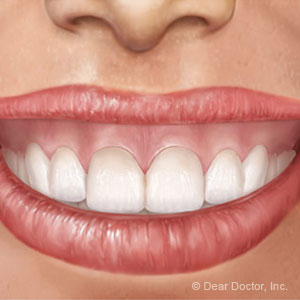 What makes a beautiful smile? The teeth, of course: bright, evenly shaped and precisely aligned with each other. But your teeth can be as perfect as can be and your smile will still appear unattractive.
The reason? Your gums show more than they should when you smile.
What's considered a gummy smile is largely a matter of perception that can vary from person to person. As a rule of thumb, though, we consider a smile "gummy" if four millimeters (mm) or more of the gums show.
Fortunately, we can minimize the gums' prominence and make your smile more attractive. But what methods we use will depend on why your gums stand out. And it's not always because of the gums themselves.
It could be your teeth didn't erupt normally during dental development. Mature crown (the visible part of the tooth) length is normally about 10 mm with a width about 75-85% of that. But an abnormal eruption could result in teeth that appear too short, which can make the gums stand out more. We can correct this with a surgical procedure called crown lengthening in which we remove excess gum tissue and, if necessary, reshape the underlying bone to expose more of the tooth crown.
Another potential cause is how far your upper lip rises when you smile. Normally the lip rises only enough to reveal about 4 mm of teeth. In some cases, though, it may rise too high and show more of the gums. We can modify lip movement in a number of ways, including Botox injections to temporarily paralyze the lip. A more permanent solution is a lip stabilization procedure. It sounds bad, but it's a fairly simple procedure to surgically reposition the muscle attachments to restrict movement.
Your gummy smile may also result from an upper jaw too long for your facial structure. We can correct this with orthognathic ("ortho" – straighten, "gnathos" – jaw) surgery. During the procedure the surgeon permanently positions the jaw further up in the skull; this will reduce the amount of teeth and gums displayed when you smile.
Discovering the true cause of your gummy smile will determine how we treat it. After a complete oral examination, we can then discuss your options to transform your smile into a more attractive one.
If you would like more information on treating gummy smiles and other cosmetic problems, please contact us or schedule an appointment for a consultation. You can also learn more about this topic by reading the Dear Doctor magazine article "Gummy Smiles."