Posts for: June, 2017
By Tanglewood Dental
June 24, 2017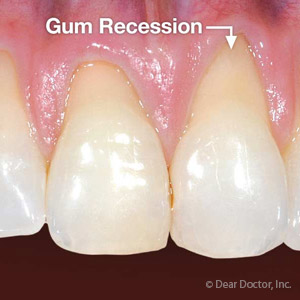 Although your smile wouldn't be the same without them, there's more to your gums than their looks. Besides helping to hold your teeth in place, they're also an important protective barrier for their roots.
Unfortunately, gums aren't immune to disease, especially periodontal (gum) disease. This bacterial infection, triggered by built-up dental plaque on teeth due to insufficient oral hygiene, can cause the gum tissues to detach from teeth and shrink back (recede). This can make your teeth more sensitive to hot or cold foods and beverages, as well as put them at even greater risk for tooth decay.
To treat gum recession, our first priority is to stop any ongoing gum disease through aggressive plaque removal. Depending on severity, this could require clinical procedures like scaling or root planing to remove plaque and tartar (hardened plaque deposits) at or below the gum line. This is especially crucial for improving gum tissue healing and stimulating potential reattachment.
Revitalizing gum tissues this way naturally has a better chance of occurring if we're able to prevent recession before it reaches the roots. If that does happen and we have sufficient gum tissue attachment remaining, we may need to give the gum tissue a helping hand through gum grafting surgery. There are a number of techniques depending on the circumstances, but they all use either tissue from another location in the patient's mouth or prepared tissue from another human donor. This type of surgery requires great skill and expertise, not to mention an aesthetic sense, to achieve a result that's both functional and attractive.
Other than daily brushing and flossing, the most important thing you can do for gum health is to see us as soon as you notice any signs of gum problems like swelling, bleeding or tooth sensitivity. The sooner we can diagnose and begin treating the problem, the less likely any gum recession will have a long-term impact on your health.
If you would like more information on gum health, please contact us or schedule an appointment for a consultation. You can also learn more about this topic by reading the Dear Doctor magazine article "Gum Recession."
By Tanglewood Dental
June 09, 2017
Porcelain veneers are positive proof that unattractive teeth don't always require an intensive restoration to regain their beauty. These thin layers of translucent porcelain — custom-designed and color-matched to blend with your other teeth — are permanently bonded to the visible side of your front teeth.
Although they can't remedy every tooth defect, they're well suited for mild to moderate disfigurements like chipping, staining or gaps. There are now two types of porcelain veneers: the traditional veneer and the "no-prep" veneer.
The standard veneers require some tooth structure removal, referred to as "tooth preparation." This is because although they're a millimeter or less in thickness, they can still appear bulky if bonded to an unprepared tooth. To accommodate their width, it's necessary to remove some of the tooth enamel. This permanently alters the tooth so that it will need some form of restoration from that time on.
In recent years, however, other veneer options have emerged that reduces — or even eliminates — this tooth alteration. No-prep veneers are so thin they can be applied to a tooth with virtually no preparation. A more common option, minimal-prep, requires only a minor reshaping with an abrasive tool to ensure the fitted veneer looks as natural as possible. Because of their thinness, these veneers also don't have to fit under the gum line like standard veneers.
To obtain no- or minimal-prep veneers, your tooth enamel needs to be in good, healthy shape. They're also best suited for people with small or worn teeth, narrow smiles (the side teeth can't be seen from the front), or slightly stained or misshapen teeth.
Because there's little invasiveness, these low preparation veneers won't typically create tooth sensitivity and they can often be applied without any form of anesthesia. And because tooth structure isn't removed, they can be "uninstalled" to return to your natural look. Of course, that's not always an easy process since the bonding between veneer and the enamel is quite strong, although today's lasers can be used to detach the veneer quite easily.
If you'd like to consider these minimally invasive veneers, talk with your dentist. If you're a good candidate, you may be able to gain a new smile without much change to your natural teeth.
If you would like more information on how veneers can change your smile, please contact us or schedule an appointment for a consultation. You can also learn more about this topic by reading the Dear Doctor magazine article "No-Prep Porcelain Veneers."