Posts for: July, 2017
By Tanglewood Dental
July 17, 2017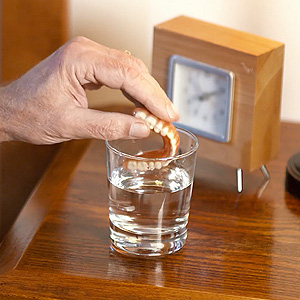 Dentures can be an effective and affordable solution for people who've lost all their teeth. With them a person can once again eat nutritiously, speak clearly and smile confidently — and with regular care they can last for years.
As part of that ongoing care, be sure you consider one important thing with your dentures: you may want to take them out at night while you sleep. If you do you'll lessen your chances of developing these 4 health problems.
Accelerated bone loss. Traditional dentures are fitted to rest securely on the gums. This, however, creates pressure on the gums and the bony ridges beneath them that can contribute to bone loss. Wearing dentures around the clock usually accelerates this process, which could eventually lead to among other problems looser denture fit and discomfort.
Bacterial and fungal growth. Microorganisms that cause oral diseases find conducive breeding spots on the underside of dentures while they're worn in the mouth. Studies have found that people who continuously wear their dentures are more likely to have bacterial plaque and oral yeast than those that don't.
Potentially dangerous infections. Bacterial and fungal growth increases your risk of oral infections that could affect more than your mouth. A recent study of elderly nursing home residents found those who wore their dentures during sleep were over twice as likely to develop serious cases of pneumonia requiring hospitalization. It's believed bacteria harbored on the dentures can pass from the mouth to the lungs as a person breathes over them while they sleep.
Blocked salivary flow. During the night our salivary flow naturally ebbs; wearing dentures while we sleep could cause denture stomatitis, in which the tissues covered by a denture (particularly along the roof of the mouth) become inflamed and infected with yeast. It's often accompanied by angular cheilitis or cracking at the corners of the mouth that becomes infected by the same yeast.
Wearing your dentures while you sleep contributes to conditions ranging from irritating to life-threatening. To prevent such problems clean your dentures as well as the rest of your mouth regularly — and talk to your dentist whether you should leave them out when you go to bed.
If you would like more information on denture care, please contact us or schedule an appointment for a consultation. You can also learn more about this topic by reading the Dear Doctor magazine article "Sleeping in Dentures."
By Tanglewood Dental
July 09, 2017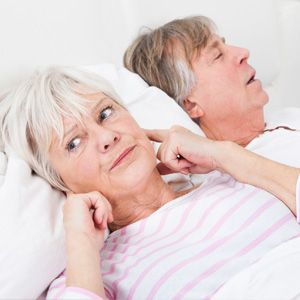 Your nightly snoring has become a major sleep disturbance for you and other family members. But it may be more than an irritation — it could also be a sign of sleep apnea, a condition that increases your risk for life-threatening illnesses like high blood pressure or heart disease.
Sleep apnea most often occurs when the tongue or other soft tissues block the airway during sleep. The resulting lack of oxygen triggers the brain to wake the body to readjust the airway. This waking may only last a few seconds, but it can occur several times a night. Besides its long-term health effects, this constant waking through the night can result in irritability, drowsiness and brain fog during the day.
One of the best ways to treat sleep apnea is continuous positive airway pressure (CPAP) therapy. This requires an electric pump that supplies constant pressurized air to a face mask worn during sleep to keep the airway open. But although effective, many patients find a CPAP machine clumsy and uncomfortable to wear. That's why you may want to consider an option from your family dentist called oral appliance therapy (OAT).
An OAT device is a custom-made appliance that fits in the mouth like a sports mouthguard or orthodontic retainer. The majority of OAT appliances use tiny metal hinges to move the lower jaw and tongue forward to make the airway larger, thus improving air flow. Another version works by holding the tongue away from the back of the throat, either by holding the tongue forward like a tongue depressor or with a small compartment fitted around the tongue that holds it back with suction.
Before considering an OAT appliance, your dentist may refer you to a sleep specialist to confirm you have sleep apnea through laboratory or home testing. If you do and you meet other criteria, you could benefit from an OAT appliance. There may be other factors to consider, though, so be sure to discuss your options with your dentist or physician to find the right solution for a better night's sleep.
If you would like more information on sleep apnea treatments, please contact us or schedule an appointment for a consultation. You can also learn more about this topic by reading the Dear Doctor magazine article "Oral Appliances for Sleep Apnea."