Posts for: April, 2019
By Tanglewood Dental
April 19, 2019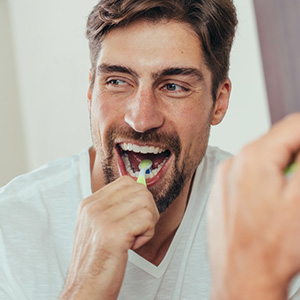 Today's dental restorations are truly amazing. Not only are they life-like and functional, they can endure for many years a hostile environment of bacteria, acid and heavy biting forces.
Even so, you'll still need to take care of your restorations to help them last. Here's how to extend the life of 3 common forms of dental work.
Fillings. We use fillings, both metal amalgam and tooth-colored materials, to repair holes or cavities in teeth caused by tooth decay. Although strong, dental fillings can break if you subject them to abnormally high biting force (like chewing ice). There's also a chance that if a slight separation occurs between the filling and tooth, bacteria can take up residence and reignite the decay process. To prevent this, practice a daily regimen of oral hygiene to clean away bacterial plaque—and reduce sugar in your diet, a prime food source for bacteria.
Veneers. Usually made of thin porcelain, veneers are bonded to the front of teeth to mask chips, stains, gaps or other blemishes. But although they're strong, veneers aren't immune to damage. Habits like biting nails, the aforementioned ice chewing or unconsciously grinding your teeth could cause a chipped veneer. And if periodontal (gum) disease causes your gums to recede, the exposed part of the tooth may look noticeably darker than the veneer. To protect your veneers and their appearance, avoid habits like ice chewing, and seek treatment for teeth grinding and dental disease.
Bridgework. Bridges are used to replace one or more missing teeth. Traditional bridges use the natural teeth on either side of the gap to support the bridge; for a single missing tooth, implants are a preferable option because they don't require permanently altering the neighboring teeth to support it. With either option, though, you should brush and floss around the restoration to reduce the risk of dental disease. Infections like gum disease or tooth decay could eventually weaken the bridge's supporting teeth or gum disease can damage an implant's gum and bone support.
With any dental restoration, be sure to practice daily oral hygiene, eat a nutritious, low-sugar diet, and see your dentist regularly for cleanings and checkups. Taking care of your dental work will help it take care of you for a long time to come.
If you would like more information on maintaining your dental restorations, please contact us or schedule an appointment for a consultation.
By Tanglewood Dental
April 09, 2019
Helping your infant or toddler develop good dental habits is one of the best head starts you can give them toward optimum oral health. But even after they've matured enough to handle hygiene tasks without you, they still need your guidance.
This is especially true in the "tween" and teen years. Although they're beginning to flex their independence muscles, they're still vulnerable at this age to peer pressure urging them to try things that, among other outcomes, could hurt their oral health.
Here are 3 areas where your input and guidance could save your older children and teens from oral health problems.
Sports activities. As children mature, they may also become involved with various physical activities, including contact sports. Years of diligent hygiene and dental care can be undone with one traumatic blow to the mouth. You can help avoid this by urging your child to wear a mouth guard during sports activity. While there are some good choices on the retail market, the most effective mouth guards are custom-created by a dentist to precisely fit your child's mouth.
Oral piercings. While expressions of solidarity among young people are popular and often harmless, some like oral piercings and their hardware could potentially damage teeth and gums. You should especially discourage your child from obtaining tongue bolts or other types of lip or mouth hardware, which can cause tooth wear or fracture. Instead, encourage them to take up safer forms of self-expression.
Bad habits and addictions. A young person "spreading their wings" may be tempted to dabble in habit-forming or addictive activities. In addition to their effect on the rest of the body, tobacco, alcohol and drugs can have severe long-term consequences for oral health. Unsafe sexual practices could lead to the contraction of the human papilloma virus, which has been linked to oral cancer in young adults. Be sure your teen understands the dangers of these habits to both their oral and general health—and don't hesitate to seek professional help when a habit becomes an addiction.
If you would like more information on helping your child develop great oral habits, please contact us or schedule an appointment for a consultation. You can also learn more about this topic by reading the Dear Doctor magazine article "How to Help Your Child Develop the Best Habits for Oral Health."