Posts for tag: dental injuries
By Tanglewood Dental
December 30, 2013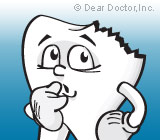 Your son has fallen and hit his face against a hard surface. Not only is he in pain but now there is also a chip missing from his front tooth. He is worried that his smile will never be the same. What should you do?
Answer: If you can find that missing chip, sometimes we can bond the fragment back on to the tooth. The tooth should be evaluated and repaired as soon as possible, although in the absence of other signs and symptoms of injury, and if your child is not in acute pain, it can probably wait up to 12 hours.
If the fragment can't be found, then the tooth can be restored with tooth-colored filling materials, which are also physically bonded to the natural tooth. Done well, these "composite resin" fillings can last for years and look perfectly natural. They may eventually need to be replaced with something more permanent.
If the chipped tooth is a child's primary (baby) tooth rather than a permanent (adult) tooth, the treatment will be similar.
However, a blow to a tooth can cause damage to the pulp — the living tissue within the tooth, which can become infected and die. If the damage to a primary tooth is too extensive it may be better to remove it to avoid damage to an underlying and developing permanent tooth. A place-holding appliance called a space maintainer may be used. If it is a permanent tooth it may need root canal treatment.
If a tooth is not chipped but is loosened or tender to the touch, it may require temporary stabilization, called splinting, until it has healed. Sometimes no treatment is required. If there has been a fracture to the tooth's root (the part below the gum line) it may heal by itself, or it may require further treatment especially if it is a permanent tooth, depending on the individual situation.
It is important to evaluate teeth that have been hit or damaged as a result of injury to ensure that they remain healthy and functional. We will keep track of the tooth or teeth, with observation, x-rays when necessary and monitoring over time to make sure no permanent damage has been done.
Contact us today to schedule an appointment or to discuss your questions about repairing a chipped tooth. You can also learn more by reading the Dear Doctor magazine article "The Field-Side Guide to Dental Injuries."
By Tanglewood Dental
October 08, 2013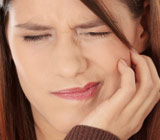 When you or a family member takes a traumatic hit to the mouth, what should you do? Besides immediate first aid, your next action will depend on the extent of damage to any teeth. What you do and when you do it may even determine whether an injured tooth is eventually saved or lost.
If a tooth has been completely knocked out, you have about five minutes to replace the tooth in the socket to give it the best chance of reattachment and long-term survival. While we can certainly perform this action in our office, getting to us within five minutes may not be possible. Fortunately, any person can perform this action on site (see the article linked below for basic instructions on replantation). If for some that's not possible, you should control bleeding at the tooth site with direct pressure, place the recovered tooth in milk or the patient's saliva, and see us as soon as possible.
If, however, the injured tooth has been obviously knocked out of line but not completely detached from its socket, you have a small cushion of time to seek dental treatment — but not much. For this degree of injury, you should see us within six hours of the incident. We will be able to determine the exact nature of the injury, and treat the condition by moving the teeth back into proper position and splinting them.
You have up to twelve hours for broken or chipped teeth still in their normal position. Try to locate and save any broken-off fragments — it may be possible to re-bond them to the teeth. Although it may not be as urgent as other situations, you should still seek treatment as soon as possible. A broken tooth could leave the inner pulp exposed — a situation that left untreated could lead to eventual tooth loss.
Traumatic injuries to the mouth can have serious consequences for your long-term dental health. With our consultation and treatment efforts, we can help you save an injured tooth.
If you would like more information on caring for dental injuries, please contact us or schedule an appointment for a consultation. You can also learn more about this topic by reading the Dear Doctor magazine article "The Field-Side Guide to Dental Injuries."
By Tanglewood Dental
March 16, 2012
Just as you would expect, we highly recommend the use of protective mouthguards to anyone participating in contact sports or rigorous physical exercise. The primary reasons we feel this way are substantiated by evidence-based research and experience within our practice. If you don't think mouthguards are helpful, here are some facts you should know:
Research conducted by the American Dental Association (ADA) found that individuals are 60 times more likely to damage their teeth when not wearing a mouthguard while engaged in contact sports or rigorous physical exercise. This shocking fact alone illustrates the importance of protective mouthguards.
A study reported by the American Academy of General Dentistry (AAGD) found that mouthguards prevent more than 200,000 injuries to the mouth and/or teeth each year.
Sports-related injuries often end-up in the emergency room; however, the US Centers for Disease Control (CDC) reports that more than 600,000 of these visits involve injury or damage to the teeth and mouth.
In addition to the trauma of having a tooth (or teeth) knocked out, individuals who have suffered from this type of injury may end up spending $10,000 to $20,000 per tooth over a lifetime for teeth that are not properly preserved and replanted. This staggering statistic is from the National Youth Sports Foundation for Safety.
While protective mouthguards were first used in the sport of boxing during the 1920s, the ADA now recommends their use in 29 (and growing) different high contact sports and activities. Some of these include acrobatics, baseball, basketball, bicycling, field hockey, football, handball, ice hockey, lacrosse, martial arts, skateboarding, skiing, soccer, softball, volleyball and wrestling.
It used to be that only males were considered when it came to needing mouthguards. However, recent studies have revealed that the growing interest and participation of females in these same sports and activities makes it just as important for them to protect their teeth.
To learn more about the importance of mouthguards, continue reading the Dear Doctor magazine article "Athletic Mouthguards." You can also contact us today to schedule an appointment or to discuss your questions about protecting your mouth and teeth. And if you have already suffered from a dental injury, let us evaluate the damage and work with you to restore the health and beauty of your teeth.