Posts for tag: dental injury
By Tanglewood Dental
May 28, 2016
A traditional root canal procedure can be a "life-saver" for a decayed or injured tooth. But while it's usually the best course for a damaged adult tooth, variations of the procedure are advisable for a new permanent tooth in a child or young adolescent.
This is because the inner pulp, the focus of the treatment, plays an important role in a young tooth's development. When it first erupts a tooth's dentin layer, the living tissue that makes up most of the body and roots of the tooth, hasn't fully formed. The pulp increases the dentin layer over time in conjunction with jaw development.
Because a full root canal treatment removes all of the pulp tissue, it could interrupt any remaining dentin development in a young tooth. This could lead to poorly-formed roots and a less healthy tooth. For an immature permanent tooth, then, we would use variations of a root canal treatment depending on the nature and extent of the injury, the patient's overall health and medications they may be taking.
Our main objective is to expose or remove as little of the pulp tissue as possible when treating the tooth. If the pulp hasn't been exposed by the decay or injury, we may only need to remove the softened decayed or injured dentin while leaving harder dentin nearer the pulp intact. If, however, the pulp has become partially exposed by disease or injury, we would then perform a pulpotomy in which we remove only the exposed tissue and then place calcium hydroxide or mineral trioxide aggregate (MTA) to stimulate dentin growth that will eventually patch the exposure site.
In cases where decay or injury has rendered an immature tooth's pulp tissue unsalvageable, we may use a procedure known as apexification that seals off the open, cylindrical root end of the tooth. This will allow bone-like tissue to grow around the root to serve as added support for the tooth. Although it can save a tooth in the short run, the tooth's long-term survival chances may be lower.
By using these and other techniques we may be able to save your child's immature tooth. At the very least, such a technique could postpone replacing the tooth until a more opportune time in adulthood.
If you would like more information on treating damaged teeth in children, please contact us or schedule an appointment for a consultation. You can also learn more about this topic by reading the Dear Doctor magazine article "Saving New Permanent Teeth after Injury."
By Tanglewood Dental
June 02, 2014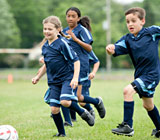 They work hard, and put in lots of time on the field and at home. They learn the rules of the game — as well as the unwritten rules of sportsmanship and teamwork. They receive the proper training, and wear appropriate protective equipment. But sometimes, in spite of everything, kids who participate in sports can be subject to injury. Fortunately, in today's dentistry there are a variety of treatments, as well as preventive measures, which can help.
When faced with serious dental injury, time is of the essence in saving teeth. So, don't delay — come in to see us immediately! If treated promptly, it's possible for teeth which have been dislodged — or even knocked out of the mouth — to be put back in position and stabilized. Afterwards, follow-up treatment will ensure that the tooth has the best chance of recovery.
The treatment of kids' dental injuries is sometimes different than that of adults. For example, in adults, a root canal would generally be necessary, followed by a tooth restoration (crown). But some kids may not need this treatment, since their teeth are still developing. Also, replacing a missing primary (baby) tooth may not be recommended, since it may hinder development of the permanent teeth. Based on his or her individual circumstances, we can develop an appropriate treatment plan for your child.
Luckily, the most common dental injuries aren't nearly as serious — they typically involve chipped or cracked teeth. Most can be repaired by reattaching the broken piece, or using a tooth-colored restoration. If a large part of the structure of a permanent tooth is missing, a crown or "cap" may be placed on the visible part, above the gum line. Smaller chips, even in primary teeth, can be successfully repaired by cosmetic bonding with composite resin materials.
Finally, if your child is involved in athletic activities — or if you are — consider obtaining a custom-made mouthguard. Numerous studies have shown that this protective gear can help prevent many dental injuries. Unlike the off-the-shelf types found in some sporting-goods stores, the ones we provide are individually fabricated from an exact model of the teeth. They're strong, fit comfortably, and offer superior protection at a reasonable cost.
If you have questions about the treatment of sports-related dental injuries, or about mouthguards, please contact us or schedule an appointment for a consultation. You can learn more in the Dear Doctor magazine articles "Trauma & Nerve Damage to Teeth" and "Mouthguards."