Posts for tag: mouthguards
By Tanglewood Dental
March 11, 2021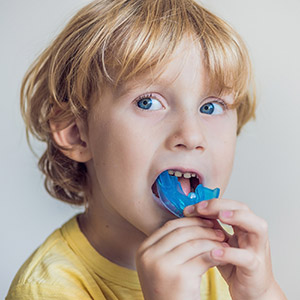 A wave of madness is about to sweep across Indianapolis and onto television screens across America—March Madness, that is. That's right: After its cancellation in 2020 due to COVID-19, the famed NCAA men's basketball tournament is back with all 68 games scheduled to be played in and around Indianapolis. As you can imagine, there will be numerous health precautions, and not just for the pandemic—there should also be mouthguards aplenty.
Why mouthguards? Although you might think football and hockey would be rougher on players' teeth, gums and jaws, basketball actually tops the list of sports with the most dental injuries. Such an injury occurring from a split-second contact with another player could take years to overcome.
Fortunately, mouthguards are a proven way to reduce sports-related mouth injuries among professional and amateur basketball athletes. Made of a pliable plastic, mouthguards cushion against blunt forces to the mouth generated during play (and not only formal games—practices and scrimmages too).
But while wearing a mouthguard is a no-brainer, choosing one can be a little intimidating. True, they all work on the same principle, but there are dozens of types, designs and price ranges.
We can, however, distill them down to two basic categories: "boil and bite" and custom mouthguards. You'll find the first kind online or in a local retail sporting goods store. It's named so because you first place it in hot water to soften it, and then place it in the mouth and bite down to create an individual fit.
As an inexpensive option, boil and bite mouthguards provide a level of protection. But they also tend to be bulky and uncomfortable, which can tempt players to wear them less. And the softer plastic (compared to custom guards) allows for a lot of jaw (and in turn, teeth) movement, which can cause teeth to loosen over time.
Custom mouthguards, on the other hand, are created by dentists based on impressions made of the wearer's mouth. As such, the fit tends to be more precise, requiring less material than the boil and bite variety, thus affording a greater degree of comfort. And there's less potentially damaging jaw movement with a custom mouthguard. As you might imagine, custom mouthguards are more expensive, but compared to the potential treatment cost for a sports-related dental injury, it's money well spent.
Investing in a custom mouthguard for your family basketball (or football, hockey or baseball) player is a sound way to protect their dental health. And that's not madness at all.
If you would like more information about athletic mouthguards, please contact us or schedule a consultation. To learn more, read the Dear Doctor magazine article "Athletic Mouthguards."
By Tanglewood Dental
January 09, 2019
What's your favorite winter sport? For some, it's all about swooshing down a snowy trail on skis, a board, or a sled. For others, the main attraction is skating at an ice rink or a frozen pond. If you're more of an indoors athlete, you may enjoy a fast-moving game of basketball or a round of squash. Or, you might take a turn on a climbing wall or a trampoline.
What do all these activities have in common? They're fun, they're great exercise…and they all come with a risk of injury to your teeth.
It's easy to see how a collision on snow or ice could result in a blow to the mouth. But did you know that basketball (along with hockey) is among the sports with the highest risk of facial injury? What's more, many "non-contact" sports actually have a similar risk.
Located front and center in the face, the incisors (front teeth) are the ones most likely to sustain injury. Unfortunately, they are also the most visible teeth in your smile. With all of the advances in modern dentistry, it's possible to restore or replace damaged teeth in almost any situation—but the cost can be high, both for present restoration and future preservation. Is there a better alternative?
Yes! It isn't sitting at home—it's wearing a custom-made mouthguard when there's a risk of facial injury.
Most people don't ski or play hockey without protective gear like a helmet. A mouthguard can effectively protect against dental injury that might otherwise be serious. Available here at the dental office, a custom mouthguard is made from an exact model of your own teeth, so it's comfortable to wear and fits perfectly—but no safety equipment can work if you don't use it!
So whether you like to hit the trails or the gym this winter, don't forget to bring a custom-made mouthguard. It's a small piece of gear that can save you from a big headache!
If you would like more information on mouthguards, please contact us or schedule a consultation. You can learn more by reading the Dear Doctor magazine articles "Athletic Mouthguards" and "An Introduction to Sports Injuries & Dentistry."
By Tanglewood Dental
March 16, 2012
Just as you would expect, we highly recommend the use of protective mouthguards to anyone participating in contact sports or rigorous physical exercise. The primary reasons we feel this way are substantiated by evidence-based research and experience within our practice. If you don't think mouthguards are helpful, here are some facts you should know:
Research conducted by the American Dental Association (ADA) found that individuals are 60 times more likely to damage their teeth when not wearing a mouthguard while engaged in contact sports or rigorous physical exercise. This shocking fact alone illustrates the importance of protective mouthguards.
A study reported by the American Academy of General Dentistry (AAGD) found that mouthguards prevent more than 200,000 injuries to the mouth and/or teeth each year.
Sports-related injuries often end-up in the emergency room; however, the US Centers for Disease Control (CDC) reports that more than 600,000 of these visits involve injury or damage to the teeth and mouth.
In addition to the trauma of having a tooth (or teeth) knocked out, individuals who have suffered from this type of injury may end up spending $10,000 to $20,000 per tooth over a lifetime for teeth that are not properly preserved and replanted. This staggering statistic is from the National Youth Sports Foundation for Safety.
While protective mouthguards were first used in the sport of boxing during the 1920s, the ADA now recommends their use in 29 (and growing) different high contact sports and activities. Some of these include acrobatics, baseball, basketball, bicycling, field hockey, football, handball, ice hockey, lacrosse, martial arts, skateboarding, skiing, soccer, softball, volleyball and wrestling.
It used to be that only males were considered when it came to needing mouthguards. However, recent studies have revealed that the growing interest and participation of females in these same sports and activities makes it just as important for them to protect their teeth.
To learn more about the importance of mouthguards, continue reading the Dear Doctor magazine article "Athletic Mouthguards." You can also contact us today to schedule an appointment or to discuss your questions about protecting your mouth and teeth. And if you have already suffered from a dental injury, let us evaluate the damage and work with you to restore the health and beauty of your teeth.