Posts for tag: orthodontic treatment
By Tanglewood Dental
April 14, 2018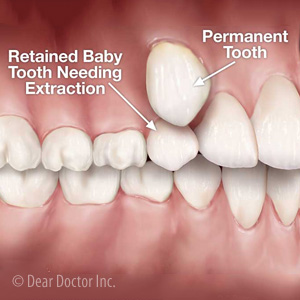 The primary goal of dental care is to preserve teeth. But there are circumstances in which removing a tooth, even a relatively healthy one, could prove best in the long run.
A malocclusion (poor bite) related to crowding might fit such a circumstance. Crowding occurs when the size of the jaw is too small for the teeth coming in. With not enough space, some teeth could erupt out of their proper positions. Removing certain teeth frees up space to eventually allow braces or other orthodontic devices to re-align the teeth.
The teeth most frequently removed are the first bicuspids, located between the cuspid (the "eyeteeth" directly under the eyes) and the back teeth, and the second premolar. Removing these won't normally affect appearance or functionality once orthodontic or cosmetic treatments are complete.
Because of the mechanics of jaw development it might be necessary to perform these extractions several years before orthodontic treatment. This could create another potential problem: the time lag could adversely affect bone health.
This is because bone, as living tissue, has a life cycle with cells forming, functioning and then dissolving, and new cells taking their place. When teeth are chewing or in contact with each other they generate force that travels through the tooth roots to the bone and stimulates cell growth at a healthy replacement rate.
But when a tooth is missing, so is this stimulation. This slows the replacement rate and eventually leads to decreased bone volume. Too much bone loss could create obstacles for orthodontic treatment or a future dental implant.
To avoid this, the dentist will often place a bone graft with processed bone mineral within the empty tooth socket right after extraction. The graft serves as a scaffold for bone cells to grow upon. The graft (plus any other added growth boosters) can help maintain a healthy level of bone volume to facilitate future orthodontic or restorative treatments.
Since targeted extraction for orthodontics is time-sensitive, you should have your child's bite evaluated by an orthodontist by age 7 to see if any action is necessary. The earlier a malocclusion is detected, the more likely a more attractive and healthy smile will be the ultimate outcome.
If you would like more information on correcting poor bites, please contact us or schedule an appointment for a consultation. You can also learn more about this topic by reading the Dear Doctor magazine article "Tooth Removal for Orthodontic Reasons."
By Tanglewood Dental
April 10, 2017
Although usually an orderly process, some permanent teeth don't come in as they should. In fact, they may not come in at all and remain hidden in the gum — a situation called impaction. This creates multiple problems for function, health and, in the case of front canines, appearance.
Canines are the longer and more pointed teeth on each side of the front-most incisors. They help tear and cut food during chewing, a function impaction eliminates. Besides a higher risk for developing abscesses (isolated areas of infection) and cysts, they can also put pressure on neighboring teeth and damage their roots or cause them to erupt abnormally.
Dentists often remove impacted wisdom and other back teeth to lessen these potential problems. Removing canines, though, has additional considerations: besides compromising ideal chewing function, missing canines often create an unattractive smile.
But before considering removal, there's another technique we might be able to use to save the canines and actually draw them down through the gums to their correct position. It's usually part of an overall orthodontic plan to correct a poor bite (malocclusion).
After pinpointing their exact position with x-rays or CT scanning, a surgeon surgically exposes the impacted canines' crowns through the gums. They then bond small brackets to the crowns and attach a small gold chain to each bracket. They fasten the other end of the chains to orthodontic hardware that exerts downward pressure on the impacted teeth. Over several months this pressure can help move the teeth into their normal positions.
Unfortunately, this technique isn't always advisable: one or more of the impacted teeth may be in a difficult position to attempt it. It's usually best in these situations to remove the teeth, usually sooner rather than later for the sake of neighboring teeth.
Fortunately, with today's advanced restorative techniques, we can eventually replace the canines with dental implants, although that's best undertaken after the patient enters adulthood. In the meantime, we can utilize orthodontic means to preserve the open space and provide a temporary restorative solution.
Whatever route taken, these teeth don't have to become a source of problems, especially for your appearance. Whether through orthodontics or restorative dentistry, impacted canines don't have to ruin your smile.
If you would like more information on various orthodontic procedures, please contact us or schedule an appointment for a consultation. You can also learn more about this topic by reading the Dear Doctor magazine article "Exposing Impacted Canines."
By Tanglewood Dental
June 02, 2015
While braces are a tried and true method for achieving a more attractive smile, they may also give rise to problems with dental disease. This is because their hardware — the brackets and bands that serve as tracks for the tensioning wires — make it more difficult to access the tooth and gum surfaces to clean away plaque. This thin film of food remnant may then become a haven for bacteria that cause gum disease or tooth decay.
One of the more common conditions to occur while wearing braces is gingivitis. This is an initial inflammation of the gum tissues caused by bacterial plaque that hasn't been removed by brushing or flossing. As the inflammation grows unchecked, the infection could advance deeper into the tissues to become a more serious form of gum disease that threatens the survival of affected teeth.
Difficult as it may be for those wearing braces, the best way to avoid gingivitis is through more thorough oral hygiene practices. Fortunately, there are many hygiene products that can help you get around many of the access difficulties posed by braces. Smaller toothbrushes known as interproximal brushes and floss threaders, small aids that thread dental floss under braces wires, can access the spaces between teeth more readily than conventional brushes or floss. Water flossers (which use water under pressure to remove plaque between teeth) and motorized toothbrushes can further increase efficiency. We can also reduce bacterial growth in the mouth if need be with prescription-strength antibacterial mouthrinses.
If, however, gingivitis or gum overgrowth (another common occurrence during orthodontic treatment) continues to be a problem, we may need to take other actions including surgery. In extreme cases, the braces may need to be removed to adequately treat the gums and allow them time to heal before proceeding with orthodontics.
Extra care with daily hygiene and regular dental checkups and cleanings in addition to your orthodontic visits will help keep gum problems at bay while you're wearing braces. Taking this extra care will stop or minimize the effect of disease as you continue on to the ultimate goal of your orthodontic treatment — a more beautiful smile.
If you would like more information on dental care during orthodontic treatment, please contact us or schedule an appointment for a consultation.