Posts for tag: orthodontics
By Tanglewood Dental
April 25, 2017
At your child's latest dental visit, you found out one of their primary ("baby") teeth has become decayed and in danger of loss. Of course, you may think, it's only a primary tooth — it's going to come out sooner or later.
But a primary tooth lost "sooner" rather than "later" can create long-term negative consequences for your child's dental health. For the sake of the future permanent tooth, the best treatment strategy could be to put forth the effort and expense to save it.
Besides its role in eating and chewing, a primary tooth's most important function is as a "trailblazer" for the permanent tooth developing below it. A primary tooth doesn't normally loosen and let go until the new permanent tooth is ready to erupt. Until then they hold the new tooth's space in the jaw.
But if the primary tooth is lost prematurely, nearby teeth can drift into and crowd the space so that the permanent tooth comes in out of position. This can result in a malocclusion, or poor bite.
Depending on the state of your child's jaw development, it may be advisable to attempt saving the tooth through a filling or, in the case of deep decay, a modified root canal treatment. If the tooth can't be saved, then placing an orthodontic appliance known as a space maintainer might be necessary. Cemented to a tooth next to the empty space, this appliance has a looped band of metal that butts against the tooth on the other side of the gap, and prevents both teeth from drifting into the space.
Intervening for a decayed primary tooth can seem a waste of time and money since it has a limited lifespan to begin with. But for the health of its companion permanent tooth, as well as possibly avoiding orthodontic treatment, it could be well worth it for your child's long-term dental health.
If you would like more information on dental care for your child, please contact us or schedule an appointment for a consultation. You can also learn more about this topic by reading the Dear Doctor magazine article "Importance of Baby Teeth."
By Tanglewood Dental
July 05, 2016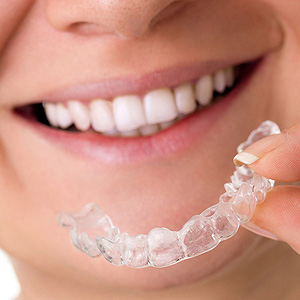 Wearing braces isn't just for teenagers — straightening teeth can be just as viable a need when you're an adult. For example, it may be necessary to first move teeth away from an empty tooth socket before you obtain a dental implant or other restoration.
But braces could have complications, especially if you have periodontal (gum) disease. These infections caused by plaque, a thin film of bacteria and food particles, inflame and weaken gum tissues and erode supporting bone. It can be treated and brought under control — but keeping it under control requires daily brushing and flossing, along with frequent office cleanings and checkups.
Braces can make this more difficult: it's harder to brush and floss effectively through the hardware of brackets and wires, which can give plaque a chance to build up. Patients susceptible to gum disease are more likely to have re-infections while wearing braces. The hardware can also cause enamel to come in prolonged contact with acid, which can dissolve its mineral content and open the door to tooth decay.
Clear aligners are an alternative to braces that can accomplish tooth movement while minimizing infection flare-ups for people with gum disease. Aligners are a series of customized clear plastic trays worn over the teeth, with each succeeding tray incrementally moving the teeth further than the preceding one. After wearing one tray for a specified time period, you then switch to the next tray. The teeth gradually move to the desired new position over the course of the aligner series.
This option is especially advantageous for gum disease patients because the trays can be removed temporarily for brushing and flossing. There are also other benefits: we can hide a missing tooth space with a temporary false tooth attached to the aligner; and, they're nearly invisible so it won't be obvious to others you're undergoing orthodontic treatment.
Not all orthodontic situations benefit from this alternative, while some cases may call for a combination approach between aligners and braces. But in the right setting, clear aligners are a good choice for not only obtaining better teeth position, but also helping you avoid a new encounter with dental disease.
If you would like more information on orthodontic treatments for adult teeth, please contact us or schedule an appointment for a consultation.
By Tanglewood Dental
February 09, 2015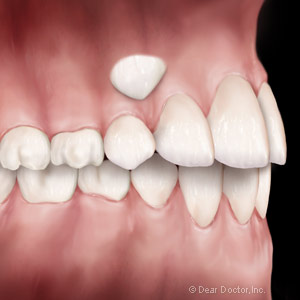 The final emergence of permanent teeth in late adolescence marks the end of a long process beginning in the womb with the formation of our primary or "baby" teeth. Permanent teeth form in a similar way as buds high in the jaw, continuing to grow until the primary teeth ahead of them fall away. The crowns of the new adult teeth eventually break through the gum tissue and emerge (erupt) into view.
At least, that's normally what should happen; sometimes, though, a tooth may only erupt partially or not at all, a condition known as impaction. The crown remains partially or fully submerged below the gum line, causing the tooth to press against other teeth, potentially damaging them. It can also make periodontal (gum) tissues adjacent to the area more susceptible to disease. Wisdom teeth are especially prone to this kind of impaction, to the extent they're often surgically removed (extracted) to avoid future problems to adjacent teeth or the bite.
Upper canines (the "eye teeth" normally located directly below the eyes) are also subject to impaction. But because of their highly visible position, extracting them could have an adverse impact on the patient's smile. In this case, we often attempt instead to expose and ultimately save the tooth.
Before taking any action, however, an orthodontic examination is conducted first to pinpoint the exact position of the impacted tooth and determine how that position might affect moving teeth into a more desired alignment. If we find the impacted canine is in a workable position, the next step is to surgically uncover the tooth from the gum tissue (a minor procedure usually performed by an oral surgeon or periodontist). Once exposed, an orthodontic bracket with a small attached gold chain is bonded to the tooth. The gums are then sutured back into place with the chain exposed and allowed to heal.
At some future point an orthodontist will attach the chain to orthodontic hardware that will pull the impacted tooth into proper position over several months. As a result, the upper canine becomes "un-impacted"; the dangers to surrounding teeth and tissues are also reduced. And, just as important, we can preserve the tooth and with orthodontics achieve an attractive, normal smile.
If you would like more information on the effects and treatment of impacted teeth, please contact us or schedule an appointment for a consultation. You can also learn more about this topic by reading the Dear Doctor magazine article "Exposing Impacted Canines."