Posts for tag: root planing
By Tanglewood Dental
September 15, 2015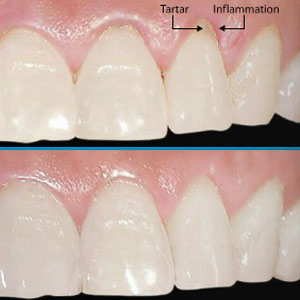 Periodontal (gum) disease is an aggressive bacterial infection caused by built-up plaque on tooth surfaces. Gum disease results in bone loss and causes loss of attachment from the teeth, leading to eventual tooth loss.
The goal of any gum disease treatment is to remove as much plaque and calculus (hardened deposits of plaque) from the gums and teeth as possible. Scaling with special hand instruments or ultrasonic equipment is the basic technique for plaque and calculus removal above and below the gum line. As the infection spreads below the gum line, it can widen the natural gap between teeth and gums to form voids known as periodontal pockets that fill with infection. Accessing and cleaning these pockets, which can occur as deep as the tooth roots, will require more invasive procedures.
Pockets that form at a depth greater than 5 mm below the gum line will most likely require surgical access through the gum tissue. But for pockets not quite that deep there's an intermediary technique called root planing without surgical intervention. As the name suggests, the roots are physically "planed," much like shaving a wooden board to remove minute layers of wood.
Using similar instruments as with scaling, root planing removes calculus, bacteria and other infected matter adhering to the root surfaces. It's best to perform the procedure with local anesthesia to numb the gum tissues, which may be quite sensitive depending on the degree of infection. Working in a pain-free environment also helps us to be as thorough as possible in detecting and removing every bit of plaque and calculus we can find.
In advanced cases, it may be necessary to perform this procedure during multiple visits. As plaque and calculus are removed the inflammation in affected tissues will begin to subside, revealing more deposits of plaque and calculus. It's also important to begin and maintain a daily habit of effective brushing and flossing to lessen the chances of a recurring infection.
Treating gum disease is an ongoing effort that requires constant monitoring and sustained efforts to remove plaque and calculus, including root planing. Saving your teeth, however, is well worth the effort.
If you would like more information on treating periodontal disease, please contact us or schedule an appointment for a consultation. You can also learn more about this topic by reading the Dear Doctor magazine article "Root Planing."
By Tanglewood Dental
September 11, 2012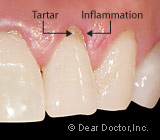 What does it mean when your dental hygienist recommends root planing? To put it simply, root planing is a method of cleaning the roots of your teeth in order to avoid periodontal ("peri" – around, "odont" – tooth) disease.
Periodontal disease happens when dental plaque, a biofilm of bacteria, is not regularly removed and begins to build up on teeth near the gum line. The bacteria cause inflammation, and this in turn causes the gum tissue to detach from the teeth. The widening spaces between the gum tissue and the teeth, called pockets, are environments in which bacteria can continue to collect and cause further inflammation and infection. Ultimately, this can lead to infection, bone loss, and loss of teeth.
Root planing is a technique designed to avoid such dire results. The bacteria, along with products they manufacture as part of their metabolism, can become ingrained in the surfaces of the tooth's root (the part of the tooth that is below the enamel). These bacterial products will form hard deposits called tartar or calculus.
Deep Cleaning Your Teeth
Of course, the best idea is to brush and floss away the plaque before the bacteria begin to build up on your teeth. If this is not done and pockets begin to form, the bacteria and toxic products are more difficult to remove in order to deep clean your teeth.
The first step is scaling. My hygienist or I will remove superficial collections of calculus. If material still remains within deep pockets, root planing is the next step. It involves actually planing the surface of the root, smoothing the surface free of calculus, bacteria, and toxins that have ingrained into the root surfaces.
Root planing is most often done under local anesthesia so that you remain comfortable while the cleaning procedures are done. The initial cleaning may be done by an ultrasonic instrument that vibrates particles off the root surfaces and flushes the pockets with water. Small hand instruments called curettes are used to finish the process. Antibacterial medication may then be used to help clear away infection from the pockets. Sometimes you may experience some tooth sensitivity to hot and cold after the root planing. If needed, this can be treated by applying fluoride to the root surfaces.
Depending on the extent of your gum disease, it may not be possible to remove all the deposits at one appointment, and it may be necessary to have multiple appointments over a few weeks to remove the remaining deposits. Often after three to four weeks the inflamed tissues have healed, leaving you with healthy gums once again.
Contact us today to schedule an appointment to discuss your questions about dental hygiene and root planing. You can also learn more by reading the Dear Doctor magazine article "Root Planing."