Posts for tag: teeth grinding
By Tanglewood Dental
May 13, 2020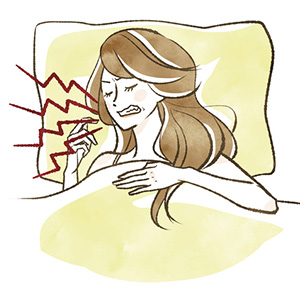 We all need a good night's sleep, both in quantity and quality. That's why the Better Sleep Council promotes Better Sleep Month every May with helpful tips on making sure you're not only getting enough sleep, but that it's also restful and therapeutic. The latter is crucial, especially if you have one problem that can diminish sleep quality: nocturnal teeth grinding.
Teeth grinding is the involuntary movement of the jaws outside of normal functioning like eating or speaking. You unconsciously grind teeth against teeth, increasing the pressure of biting forces beyond their normal range. It can occur while awake, but it is more common during sleep.
The habit is fairly widespread in children, thought to result from an immature chewing mechanism. Children normally outgrow the habit, and most healthcare providers don't consider it a major concern.
But teeth grinding can also carry over or arise in adulthood, fueled in large part by stress. It then becomes concerning: Chronic teeth grinding can accelerate normal age-related tooth wear and weaken or damage teeth or dental work. It may also contribute to jaw joint pain and dysfunction related to temporomandibular disorders (TMD).
If you notice frequent jaw tenderness or pain, or a family member says they've heard you grind your teeth at night, you should see us for a full examination. If you are diagnosed with teeth grinding, we can consider different means to bring it under control, depending on your case's severity and underlying causes.
Here are some things you can do:
Alter lifestyle habits. Alcohol and tobacco use have been associated with teeth grinding. To reduce episodes of nighttime teeth grinding, consider modifying (or, as with tobacco, stopping) your use of these and related substances. Altering your lifestyle in this way will likely also improve your overall health.
Manage stress. Teeth grinding can be a way the body "lets off steam" from the accumulated stress of difficult life situations. You may be able to reduce it through better stress management. Learn and practice stress reduction techniques like meditation or other forms of relaxation. You may also find counseling, biofeedback or group therapy beneficial.
Seek dental solutions. In severe cases, there are possible dental solutions to reducing the biting forces generated by teeth grinding. One way is to adjust the bite by removing some of the structure from teeth that may be more prominent than others. We may also be able to create a bite guard to wear at night that prevents teeth from making solid contact with each other.
These and other techniques can be used individually or together to create a customized treatment plan just for you. Minimizing teeth grinding will help ensure you're getting the most out of your sleep time, while protecting your dental health too.
If you would like more information about treatment for teeth grinding, please contact us or schedule a consultation. To learn more, read the Dear Doctor magazine article "Teeth Grinding."
By Tanglewood Dental
March 30, 2019
Teeth grinding is one childhood habit that sounds worse than it usually is: often the most harm done is to your night's sleep. That said, though, it's still a habit to keep your eye on.
Also known as bruxism, teeth grinding is so common among children that it's considered normal behavior by many healthcare professionals. As for causes, some suggest a child's immature neuromuscular chewing control may trigger it, while others point to the change from deeper sleep to a lighter stage as a possible cause. Problems like airway obstruction, medications or stress also seem to contribute to the habit.
For most children, teeth grinding usually fades by age 11 with no adverse effect on their teeth. If the habit extends into adolescence, however, there's an increased risk for damage, mainly tooth wear.
This can happen because grinding often produces chewing forces 20-30 times greater than normal. Over time this can cause the biting surfaces of the teeth to wear and reduces the size of the teeth. While teeth normally wear over a lifetime, accelerated wear can pose a significant health risk to your teeth. Any sign of tooth wear in a child or adolescent is definitely cause for concern.
If your child's tooth grinding habit appears to be developing into a problem, your dentist may recommend a few treatment options. The most common is a thin, plastic night guard worn in the mouth during sleep that prevents the upper and lower teeth from making contact. If the suspected cause is airway obstruction, they may refer you to an ear, nose and throat (ENT) specialist to seek treatment for that, as well as other professionals to help with managing stress or medications.
Like thumb sucking, the habit of teeth grinding usually ends with no permanent ill effects. But if you notice it continuing late into childhood or your dentist finds tooth wear or other problems, take action to avoid problems long-term.
If you would like more information on childhood bruxism, please contact us or schedule an appointment for a consultation. You can also learn more about this topic by reading the Dear Doctor magazine article "When Children Grind their Teeth."
By Tanglewood Dental
April 13, 2016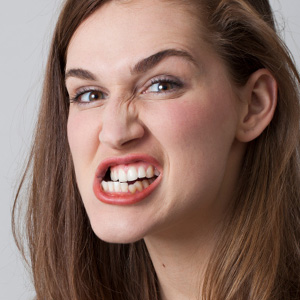 Modern life can be demanding. The body helps us rise to the occasion through responses we collectively call stress.
But while stress can be a good thing, it can also overwhelm us and manifest in some harmful way: bouts of back pain, stomach ulcers or even acne. It could also trigger tooth grinding, often occurring as we sleep. And like other stress relievers, tooth grinding can be detrimental to your health long term.
Teeth-on-teeth contact occurs normally when we eat or speak, or simply as our jaws contact each other with glancing touches hundreds if not thousands of times a day. Such normal contact is beneficial because it stimulates healthy bone growth in the jaw. But if the forces created exceed the normal range as with tooth grinding (up to ten times), it can cause a bevy of problems to the teeth and jaws.
While excessive jaw motion during teeth grinding can cause inflammation and painful spasms in the muscles, the greater danger is to the teeth, which could even fracture from the high amount of force. The more common occurrence, though, is an increased rate of enamel erosion, which causes the tooth to lose vital structure and eventually appear shorter in appearance.
Fortunately, there are ways to reduce teeth grinding or its severity. The first order of business is to treat its effects by reducing its symptoms and ongoing damage. We can recommend some behavior modification techniques to alter the frequency of the habit or a night guard to protect the teeth from the intensity of the habit if you're unable to change the behavior.
A custom-fitted night or occlusal guard, a retainer-like dental appliance made of smooth acrylic plastic is designed so that the lower teeth glide over the guard surface when grinding and can't make solid contact with the upper teeth. This reduces the generated force and helps protect the teeth.
In the long term, though, you should address the root cause — how you're handling daily stress. Treatment by a psychotherapist or counselor, for example, could help you develop ways to channel stress in more productive ways.
However your treatment strategy develops, it's important to address stress and teeth grinding as soon as possible. Controlling it will have long-term benefits for your teeth and smile.
If you would like more information on dealing with stress that causes tooth grinding, please contact us or schedule an appointment for a consultation. You can also learn more about this topic by reading the Dear Doctor magazine article "Stress & Tooth Habits."