Posts for tag: teething
By Tanglewood Dental
September 21, 2018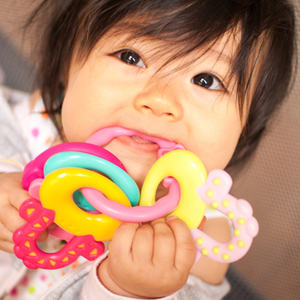 Although it's a natural part of dental development, teething is no picnic for your baby. This process in which each of their twenty primary teeth gradually erupt through the gums usually begins around their sixth to ninth month and may not end until around age three.
These periodic tooth eruptions can cause your baby to bite, gnaw, drool or rub their ears. Teething can also disrupt sleeping patterns, decrease appetite and cause gum swelling and pain that can turn your otherwise happy baby into an unhappy one.
Managing these teething episodes is one of the most common topics parents bring up with their dentists. Since teething is supposed to happen, there's no need for medical intervention unless the child is also experiencing diarrhea, rashes, fever or prolonged irritability associated with teething episodes. In most cases, the best you can do is to make your child more comfortable. Here are a few things to help you do just that.
Provide cold items for gnawing. Rubber teething rings, wet wash cloths or pacifiers that have been chilled can give your child something to gnaw on and ease the pressure of sore gums while the chilled temperatures help numb pain. Be sure, though, that the items aren't frozen because extremely cold temperatures can burn the skin.
Gum massage. You can massage your child's gums with one of your fingers during a teething episode to counteract the throbbing pressure coming from the erupting tooth. Just be sure your finger is clean and don't use any numbing agents unless advised by your dentist or pediatrician.
OTC medication. You can ease mild to moderate teething pain with over-the-counter pain relievers like acetaminophen or ibuprofen in dosages appropriate for your child's age. But don't apply rubbing alcohol to the gums or massage in any pain reliever—both practices can burn the skin. And, as mentioned before, only apply numbing agents like Benzocaine with the advice and supervision of a healthcare professional.
Besides these practices, be sure to keep up regular dental checkups to monitor the teething process and ensure all is going normally. And remember: though it may seem harrowing at times, the teething process won't last forever.
If you would like more information on easing the effects of teething, please contact us or schedule an appointment for a consultation. You can also learn more about this topic by reading the Dear Doctor magazine article "Teething Troubles: How to Help Keep Your Baby Comfortable."
By Tanglewood Dental
April 24, 2014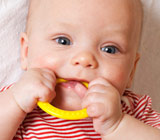 When your baby's first teeth erupt in the mouth, it's a big step in their development. Unfortunately, you may not have much opportunity to celebrate — you're too busy tending to your infant whose experience is anything but pleasant.
Commonly known as teething, the eruption process usually begins between six and nine months of age, although some children may begin as early as three months or as late as twelve. Not all teeth come in at the same time: it usually begins with the two lower front teeth, then the two upper front teeth, followed by the molars and then the canines (eye teeth). By age three, most children have all twenty of their primary teeth.
Each child's teething experience is different and may vary in length of time and intensity. The usual signs are heightened irritability, biting and gnawing accompanied by gum swelling, ear rubbing, drooling and sometimes facial rashes. Babies also may have disturbed sleeping patterns and a decreased appetite. Occasionally, this discomfort can be intense.
There are some things you can do to ease this discomfort. Provide your baby a clean, chilled (not frozen) rubber teething ring, chilled pacifier or wet washcloth to gnaw on. Cold foods, like popsicles for older children can also be soothing, though you should limit sugary foods to lower the risk of tooth decay. You can also finger massage swollen gums to counteract the pressure coming from the erupting tooth, or administer pain relievers like baby acetaminophen or ibuprofen. You can use products with Benzocaine®, a numbing agent, for children two years or older — but you should never use alcohol for children of any age for inflamed gums.
Be sure to also set up a Year One dental examination around their first birthday. This is an important first step in your child's long-term dental care, and a good opportunity to check their teething progress. And, by all means, if you have concerns about your child's experience with teething, don't hesitate to call our office.
Teething is a normal part of your child's development. There's much you can do to help make it as comfortable and pain-free as possible.
If you would like more information on teething, please contact us or schedule an appointment for a consultation. You can also learn more about this topic by reading the Dear Doctor magazine article "Teething Troubles."
By Tanglewood Dental
May 31, 2013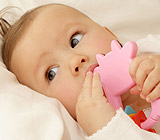 Throughout your child's lifetime, you will experience many important milestones together, some more pleasant than others. Teething is one of those notable milestones, and unfortunately, this "rite of passage" may cause your baby to feel uncomfortable at times.
Teething describes the tooth eruption process by which baby teeth emerge through the gums and into the mouth. It usually begins when your baby is between six and nine months, but may start as early as three months or as late as twelve months. Most children will have all 20 baby teeth by agree three, with the lower front teeth erupting first, followed by the two upper front teeth and then the molars.
Every baby will experience teething differently, but the following symptoms are very common:
Irritability
Biting and gnawing
Gum swelling
Chin rash
Disrupted sleeping patterns
Ear rubbing
Drooling
Decreased appetite
Many babies make it through the teething phase without much discomfort, but sometimes the pain can be substantial. If your baby is lucky enough to experience no discomfort, he or she will likely demonstrate some of the classic symptoms of teething, such as swollen gums and drooling. You may also notice that he or she will bite or chew anything and will wake up frequently during the night. These symptoms occur most often the week the teeth actually break through the gums, beginning four days before the eruption and lasting about three days after.
Here are a few suggestions to help reduce your baby's discomfort during teething:
Teething rings: The American Academy of Pediatric Dentistry (AAPD) recommends that parents use a clean, chilled, rubber teething ring or cold wet washcloth.
Chilled pacifiers: Be careful not to freeze teething rings or pacifiers, as ice can burn if left in place too long.
Gum massage: Massaging inflamed gums with your clean finger may be helpful to reduce the pressure.
Over-the-counter medicine: If pain continues, you can give your baby acetaminophen or ibuprofen, but check with a pediatrician or pharmacist for the correct dosage. The medicine should be swallowed and not massaged into the sore areas, as this, too, can burn.
Other unpleasant side-effects of teething include diarrhea, rashes and fever. Though many have reported these symptoms to be normal, if your infant has fever or diarrhea during teething or continues to experience pain, you should schedule an appointment with our office. We'll examine your baby to ensure that the discomfort is related to teething and not something more serious.
If you would like more information about teething, please contact us for a consultation. You can also learn more by reading the Dear Doctor magazine article "Teething Troubles."