Posts for tag: tmj disorders
By Tanglewood Dental
April 03, 2020
Chronic jaw pain can be an unnerving experience that drains the joy out of life. And because of the difficulty in controlling it patients desperate for relief may tread into less-tested treatment waters.
Temporomandibular disorders (TMDs) are a group of conditions affecting the joints connecting the lower jaw to the skull and their associated muscles and tendons. The exact causes are difficult to pinpoint, but stress, hormones or teeth grinding habits all seem to be critical factors for TMD.
The most common way to treat TMD is with therapies used for other joint-related problems, like exercise, thermal (hot and cold) applications, physical therapy or medication. Patients can also make diet changes to ease jaw function or, if appropriate, wear a night guard to reduce teeth grinding.
These conservative, non-invasive therapies seem to provide the widest relief for the most people. But this approach may have limited success with some patients, causing them to consider a more radical treatment path like jaw surgery. Unfortunately, surgical results haven't been as impressive as the traditional approach.
In recent years, another treatment candidate has emerged outside of traditional physical therapy, but also not as invasive as surgery: Botox injections. Botox is a drug containing botulinum toxin type A, which can cause muscle paralysis. Mostly used in tiny doses to cosmetically soften wrinkles, Botox injections have been proposed to paralyze certain jaw muscles to ease TMD symptoms.
Although this sounds like a plausible approach, Botox injections have some issues that should give prospective patients pause. First, Botox can only relieve symptoms temporarily, requiring repeated injections with increasingly stronger doses. Injection sites can become painful, bruised or swollen, and patients can suffer headaches. At worst, muscles that are repeatedly paralyzed may atrophy, causing among other things facial deformity.
The most troubling issue, though, is a lack of strong evidence (outside of a few anecdotal accounts) that Botox injections can effectively relieve TMD symptoms. As such, the federal Food and Drug Administration (FDA) has yet to approve its use for TMD treatment.
The treatment route most promising for managing TMD remains traditional physical and drug therapies, coupled with diet and lifestyle changes. It can be a long process of trial and error, but your chances for true jaw pain relief are most likely down this well-attested road.
If you would like more information on treating jaw disorders, please contact us or schedule an appointment for a consultation. You can also learn more about this topic by reading the Dear Doctor magazine article "Botox Treatment for TMJ Pain."
By Tanglewood Dental
January 02, 2017
Eating is one of the pleasures — and necessities — of life, but people who suffer from temporomandibular joint disorders (TMD) may find eating no pleasure at all — and they may not be eating the right nutritional balance of foods.
TMD is a collection of conditions that affect the jaw joints, connecting muscles and other related facial structures. If you've been diagnosed with TMD, you're probably not only acquainted with severe pain, but also difficulty opening your jaw as widely as normal. This can make it difficult to chew certain foods.
There are a number of effective treatments for TMD, including thermal therapy (hot or cold packs), joint exercise, medication or surgery (as a last resort). But these treatments often take time to make a noticeable difference. In the meantime, you may still need to change what and how you eat to ensure you're getting the nutrients your body needs.
The overall strategy should be to soften and reduce the chewing size of your food. With fruits and vegetables, you'll want to peel and discard any hard or chewy skins, and then chop the fruit flesh into smaller pieces. Steam or cook vegetables like greens, broccoli or cauliflower until they're soft and then chop them into smaller portions. You might also consider pureeing your fruit (and some vegetables) to make smoothies with ice, milk or yogurt, or vegetable-based soups.
Treat meat, poultry or seafood in much the same way, especially biting sizes. Besides cooking meats to tenderness, include moisteners like broths, gravies or brazing liquids to further make them easier to chew.
Dairy foods are an important source of nutrition: eat milk-based products like yogurt or cheese as much as you can handle. If you have problems with these or also nut butters, then consider meal replacement beverages like instant breakfast or whey protein beverages.
And don't forget whole grains. Although some can be hard to chew, you can prepare them in hot cereal form (like oatmeal) to tenderize them. You can also prepare thin bread toast and cut into smaller pieces.
Hopefully, your treatment will bring your TMD symptoms under manageable control. Until then (and after, if need be) adjust your diet to eat the foods that keep you healthy.
If you would like more information on maintaining a healthy diet with TMD, please contact us or schedule an appointment for a consultation.
By Tanglewood Dental
September 30, 2015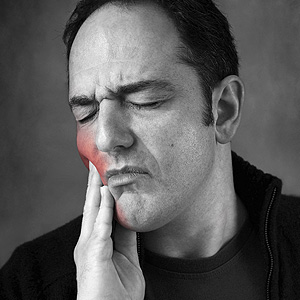 Have you noticed a clicking, popping, or grating sound when you open or close your jaw? As many as 36 million U.S. adults experience this phenomenon in one or both of the joints that connect the lower jaw (mandible) to the skull.
While the sounds may be disconcerting, there's generally no cause for concern in the absence of other symptoms. They're most likely caused by a harmless shift in the position of the disk inside each temporomandibular (jaw) joint, and it can diminish or disappear entirely over time. But, if you're also experiencing persistent discomfort, severe pain, or limited function in your jaw (which can include getting it "stuck" in an opened or closed position), then you may be suffering from a temporomandibular joint disorder — part of a complex set of conditions affecting one or both jaw joints, muscles and/or other surrounding tissues. (You may have heard the condition called TMJ, which is actually the abbreviation for the temporomandibular joint itself. Health care professionals prefer TMJD or TMD.)
Depending on the severity, TMD can interfere with your ability to speak, chew and even make facial expressions. The cause is unclear, but genes, gender, environment, stress and behavior are believed to play a role. It can also be symptomatic of a larger medical problem, such as fibromyalgia, which can produce pain all over the body.
Management Options for TMD
TMD traditionally was viewed as a bite problem (malocclusion) requiring mechanical correction — e.g., through orthodontic braces or surgery. But the current therapeutic model approaches TMD as an orthopedic problem (joint inflammation, muscle soreness, strained tendons and ligaments, and disk damage) and favors a sequence of conservative, reversible procedures — hot or cold compresses in the jaw area, soft foods, physical therapy/massage, medication, and/or a bite guard to decrease pressure on jaw joints from tooth clenching and grinding — prior to more aggressive, irreversible treatment alternatives.
If you would like more information about TMD, please contact us or schedule an appointment for a consultation. You can also learn more about the subject by reading the Dear Doctor magazine articles "Seeking Relief from TMD" and "Chronic Jaw Pain and Associated Conditions."