By Tanglewood Dental
September 26, 2012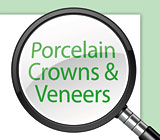 When it comes to restoring both the beauty and functionality of a smile, two of the most commonly used techniques are porcelain crowns and veneers. Why? They consistently deliver beautiful, natural-looking results that are permanent and require very little maintenance. And while they have many things in common, they also have just as many differences.
The Similarities
Here are some facts that apply to both porcelain veneers and crowns:
Both enable changes to a tooth's color and shape.
Dental laboratory technicians use precise molds made by our office to hand-craft porcelain veneers and crowns.
Both are made using high-quality dental porcelain.
Neither respond to tooth whitening products — the color of the veneer or crown remains the same color as the day it was placed.
Neither procedure is reversible once completed.
The Differences
Here are some of their differences:
Crowns are used to replace a larger amount of tooth structure while veneers are thin shells that are placed over the front surface of teeth.
Veneers require much less tooth preparation (reduction by drilling) than crowns.
Crowns allow for greater change of tooth shape, while veneers allow for more minor changes.
Crowns are generally used to restore teeth that have lost tooth structure from decay or trauma.
Veneers are generally used where teeth are structurally healthy and intact, but color and shape change are required.
Veneers are used mostly for teeth that are visible when smiling, while crowns can be used to restore virtually any tooth.
Want To Learn More?
To learn more, read the Dear Doctor article, "Porcelain Crowns & Veneers." Or, you can contact us to discuss your questions or to schedule a consultation.
This website includes materials that are protected by copyright, or other proprietary rights. Transmission or reproduction of protected items beyond that allowed by fair use, as defined in the copyright laws, requires the written permission of the copyright owners.